News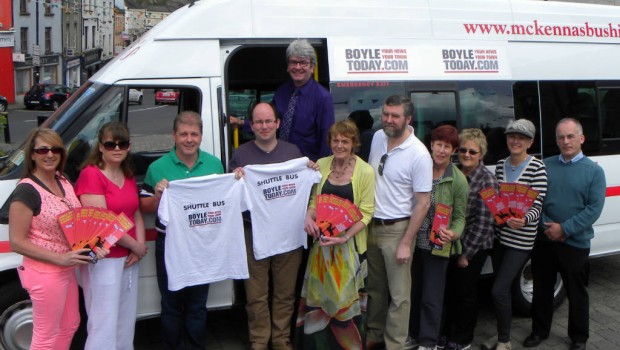 Published on September 11th, 2014 | by BoyleToday.com
Over 400 avail of Shuttle Bus
Boyle Town & More is delighted to announce that the Boyle / Lough Key Shuttle Bus has successfully completed its inaugural pilot season, providing over four hundred passengers with the opportunity to avail of a valuable service for a nominal and affordable fee of only one euro to use the service, provided twice daily, six days a week during the months of June, July and August 2014. The Shuttle Bus timetable was decided on to ensure that it coincided with national bus & train schedules.
The confidence in the initiative was supported quickly by our main sponsor BoyleToday.com which gave great impetus and a necessary cash injection to start the project which was sincerely appreciated.  We also appreciate the overwhelming support of fifty six local businesses providing sponsorship, many of whom will not gain any direct monetary reward but were keen to ensure the initiative was a success nonetheless. The sponsorship provided for the design & printing of 5,000 promotional brochures highlighting the picturesque town of Boyle and all it has to offer.
The marketing & promotional campaign surrounding the initiative included the focal point of a new larger rotating screen inset into an information map board in Lough Key Resort Centre providing a welcome and positive awareness of what our town has to offer and Boyle's proximity to Lough Key.  All businesses who sponsored the initiative were included in the promotional campaign, providing valuable awareness of the vast services and products available in and around Boyle.
Sincere gratitude is extended to Marie and all volunteers who gave valuable time in promoting Boyle to visitors in Lough Key Forest & Activity Park. It was very evident by the increased numbers of visitors in Boyle town this season that this personal greeting and guidance has helped significantly in the numbers of Lough Key visitors coming into Boyle town.
Lough Key Forest & Activity Park were delighted that the bus provided an extra service for their visitors to the caravan & camping park and the large numbers on boating holidays. The management co-operated by allowing the erection of additional information boards in the park at the camping and mooring areas. Roscommon County Council were keen to add additional value to the service by giving all visitors to Lough Key and Boyle that came off the bus with a bus ticket, providing a group discount to participate on the various attractions in Lough Key and King House.
On behalf of Boyle Town and More a sincere thank you is extended to all involved in this successful pilot project, especially to our main sponsor Boyletoday.com, the local business sponsors, the professional services of McKenna's and those who helped and assisted in anyway, without whom we would not have been able to provide the service. Boyle Town and More are positively planning to offer this service again in 2015.
King House was delighted to receive numerous visitors who arrived in Boyle using the shuttle bus stating "Visitors were very happy that the service had been put in place and noted how convenient it was to use and appreciated the value of being able to avail of a discounted rate for the tour of King House by producing their shuttle bus ticket. King House would welcome the shuttle bus service being in operation again for the 2015 summer season."
The following are some comments received from businesses in Boyle "The shuttle bus definitely brought more awareness of Boyle to people visiting the Park" "People were surprised how near Lough Key Forest Park is to Boyle town" "There are definitely people coming in to town who wouldn't normally" "Customers mentioned using the shuttle bus to come into town" "More lunchtime footfall in town" "We had some tourists in buying meat to cook for their BBQ in Lough Key, which was great!"
(Picture shows the launch of the Shuttle Bus earlier this year)