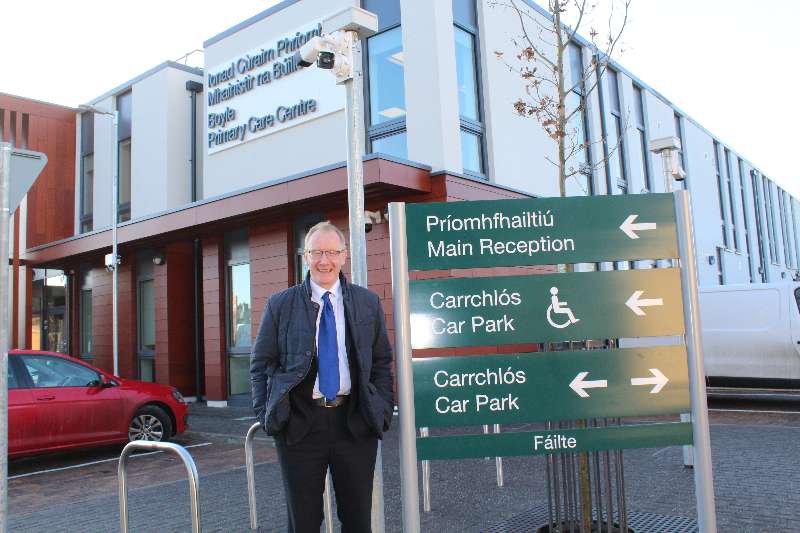 Senator Frank Feighan withdrew his name from last night's Sligo Leitrim convention.
The Boyle Senator said he would apply to the National Executive to add him to the ticket on the basis that he is the only current sitting member of the Oireachtas.
Senator Feighan was initally proposed on the night by Christopher Callan and seconded by Jan Flanagan.
The following is Senator Feighan's address to the convention:
Minister, TDs, Senators, Councillors, ladies and gentleman. It really is a privilege to be here tonight among friends and colleagues as we gather to select our party candidates to contest the next General Election.
Firstly, I want to extend my very best wishes to all the candidates here tonight and take this opportunity again to pay tribute to Deputy Tony McLoughlin, who is stepping down after 40 years of public service.
I grew up in Boyle over my family business, McDonagh's Newsagents, which had a huge and loyal network of friends and customers from South Sligo and North Roscommon. Between the newsagent and other businesses, I employed over 30 people.
My Sligo connections are extensive. My late father Pat was from Tubbercurry and I have numerous relations living in County Sligo.
My grandfather James Feely was a Commander of the Old IRA during the War of Independence in North Roscommon and imprisoned for his political activities.
As a family, we are very proud that he was one of the first members of An Garda Siochana when this State was founded – and we like Fine Gael have huge respect, admiration and pride for  An Garda Siochana which helped set up and  defended the institutions of this State in difficult times.
My mother Helen epitomises the ordinary and extraordinary person who worked hard all of her life, reared her family and contributed a lifetime to society and the economy. She represents the many unsung heroes who make up the backbone of this country.
In the 2007 and 2011 Dail elections, as the leading Fine Gael vote-getter in Roscommon-South Leitrim, I helped my fellow party colleague at the time, Denis Naughten, get elected twice but on a lighter note and if you pardon the pun, he repaid me by giving me the ultimate hospital pass!
Back in 2011, our country was on the brink of collapse. When we needed a stable Government, we worked night and day to get our country back to work and since then, unemployment has dropped from a high of more than 15% to just over 5%.
Since 2011, I have delivered €400m in capital investment. This includes:
*The multi-million euro investment at Lough Key Forest & Activity Park – a project which I spearheaded from the very beginning, successfully bringing together the unique partnership of Roscommon County Council and Coillte to ensure that that Lough Key Forest Park has now become a national tourist and visitor attraction.
*I have also delivered new Primary Care Centres for Boyle and Ballinamore as well as a new Community Nursing Unit and a new Community School for Ballinamore.
*I have also worked to secure funding for the N4, Collooney to Castlebaldwin; the €60m bypass in Ballaghaderreen; and funding for the N61 between Boyle and Roscommon,
*This region has also been the beneficiary of hundreds of jobs in recent times and I'll continue to fight for more.
One of the proudest days of my life was in 1985 when Garrett Fitzgerald signed the Anglo-Irish agreement. This ultimately led to the GoodFriday Agreement, which has brought peace and prosperity to the island of Ireland.
I passionately believe that we must work with our friends and neighbours in the North and the UK to achieve an agreed Ireland. Through my work on the Good Friday Agreement committee and the British Irish Parliamentary Assembly, I am very proud and honoured to have worked extensively with my colleagues across all parliaments to promote deeper friendships and co-operation on the island of Ireland and between the two islands.
As many of you might know, the Roscommon Hospital saga changed my life. Thankfully, I have been fully vindicated on the stance which has been endorsed by management and medical consultants at Roscommon Hospital. Seven years on, Roscommon Hospital is bigger, busier and safer due to the fact I made the decision to stay in Government. I succeeded in securing a €20m investment programme at the hospital while the introduction of the air ambulance which I insisted on has saved hundreds of lives in the West and North-West.
It's also ironic that the same people who were complaining back then are still complaining now but this time it's over the need for extra parking spaces outside the hospital because it is so busy!
Life for me now could never be better. 5 years ago, I was so lucky to have met the gorgeous Elaine and we now have a beautiful one-and-a half-year old daughter, Francesca. Sometimes in life, we box above our weight and every time I walk down the street with Elaine, I always think of the lines from the famous Joe Jackson song: "Is she really going out with him? Is she really gonna take him home tonight?
Anybody who knows me knows I enjoy life; I enjoy sport, including soccer and Gaelic Football and I have a keen interest in horse-racing.
Two years ago, I betted that a General Election would happen in 2019. However, should the Government last through to 2020/21, it's a bet I won't mind losing! But there is one bet I won't risk placing and that is betting on getting through this convention tonight as I believe, for a number of reasons, the odds are stacked against me.
To have a valid vote at this convention, you need to be a member of the party for two consecutive years – and given only two branches moved in from North Roscommon only a year ago, it was physically impossible to add members to address this criteria. Remember, these two former Roscommon branches only represent a little over 5% of the membership at this convention tonight.
Secondly, the vast majority of members which constitutes up to 90 per cent of the membership are from Counties Sligo and Leitrim and I know you have a desire to have a candidate from your own county, which I fully accept and understand.
Finally, only a few weeks ago, tonight's convention was reconvened at short notice. It was originally due to take place at the end of September, which would have given me time to visit members personally. This time was further restricted due to my work in this minority Government and the last number of weeks has been almost exclusively taken up with passing legislation, which we only completed on Tuesday of this week.
As a result of all of this, I will have to take a different approach and I want to say publicly right now that I won't be putting my name forward for selection tonight – and I will be applying to the National Executive to be added to the ticket.
As the only Oireachtas member before you tonight, I certainly do believe if I was on the ticket, I would have a great chance of securing a second seat for Fine Gael. However, whatever decision is taken by the National Executive, I will fully accept and abide, as always, by the rules of the party. As a Senator, I will continue as always to work and deliver for this constituency.
Finally, I just want to say it is a great honour to be here tonight among friends, colleagues and members of Fine Gael who at all times have always tried to put this great country first.
And that is a party I am proud and honoured to be a member of….
Thank you.
The Convention selected former TD Gerry Reynolds and Sligo Councillor Sinead McGuire as the nominees.