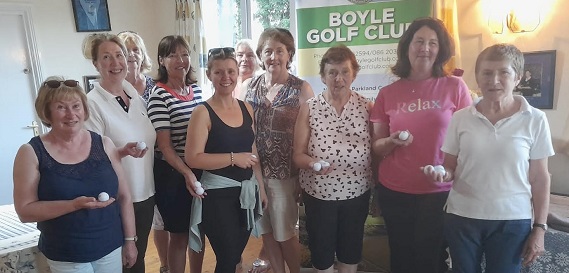 RESULTS – The winner of the Mens Thursday competition was Jonathan Egan with 30 points, just beating Jason Beirne's 29. Jim Callery's came in third with 28. The 2s club was split between Jonathan Egan and Colin O'Sullivan.
The Lady President's Prize to the men was played on the weekend of Sunday the 14th, results to follow. This years Lady President is Susan O'Mahoney.
LADIES SCRAMBLE – The ladies recently put on another well attended Scramble with teams consisting of Beginners, Improvers and established golfers.The winning team was that of Catherine Roddy, Bernie Kemple and Mary Nicholson. The last of this series of Scrambles will be on Wednesday the 24th of August.
FIXTURES – The Mens' Thursday night competition continues, more sponsors are needed for some of the remaining Thursdays.
Next weekend the men play in the 18 Hole Vpar competition.
INTERCLUBS – Hard luck to our Jack O'Sullivan Tournament team who were beaten by Castle Dargan., to whom we wish the best of luck in the rest of the competition.
Next up in the interclub competitions is the Connacht Shield, a tournament in which Boyle have previously contested 2 Connacht finals. This years Captain is Niall Kearney and he is currently putting his team together, if you feel you have a good case to be selected please make contact with Niall.
Pic shows some of the participants in the recent Ladies Scramble – L to R – Carmel Beirne, Aisling Archer, Gertie Brehony, Dympna McNamara, Ashling Ennis, Edel Flood, Eileen Callaghan, Mary Nicholson, Pauline Feely, Bernie Kemple.