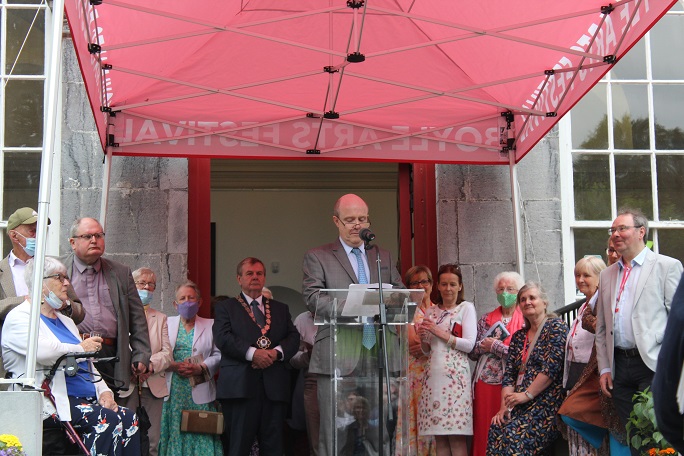 The weather held dry and the evening was warm for the official opening of Boyle Arts Festival on Thursday night.
Crowds lined the street for the opening parade featuring up to 100 young people from Music Generation Roscommon, Hullabaloo, Victoria Walker Dance and Roscommon Youth Theatre who had taken part in numerous workshops in the run up to the Festival opening and who entertained the crowds on their way to King House.
The Festival was opened by Boyle native Hilary Beirne, who will be in conversation later in the Festival with Carol Coleman.
Hilary Beirne, who is originally from Rathdiveen, Boyle is well known for his extensive work with the Irish community in the United States. He is the founder and Chairman of NYC St. Patrick's Day Foundation and for the past 25 years has been the principal orchestrator of the world's largest and oldest St. Patrick's Day Parade in New York City. He is an active member of the "Irish Ad Hoc" Committee in Washington DC, a member of the Executive Board at VotingRights.ie, an honourary member of the famed "Fighting 69th" Regiment and serves as a member of the Advisory Board of the 69th Historical Trust. He is a member of both the Co Roscommon and Leitrim Societies of NY. Before emigrating to the US in 1988, Hilary Beirne introduced the "wrapping" of bale silage into the West of Ireland, then a new innovation in farming while working for Volac Animal Feeds as Area Manager for Connaught.
Boyle Arts Festival runs from Thursday July 14th to Saturday July 23rd with a packet programme of events which you can find here
(See more photographs from the opening night on Boyletoday Facebook page)