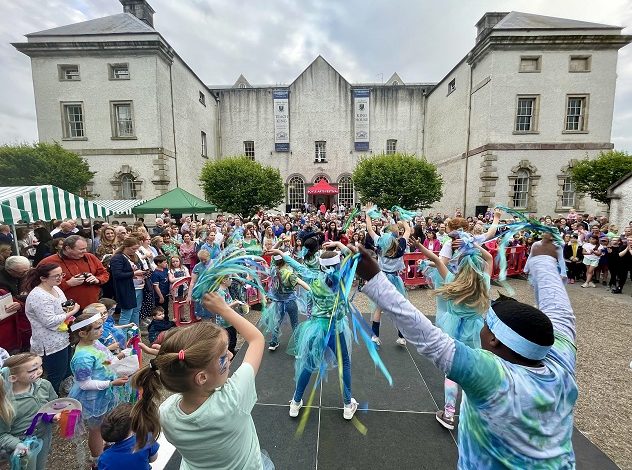 The country has been through a very difficult pandemic episode that cancelled many opportunities to engage with arts events over the last two years. However, Boyle Arts Festival committee say in a statement that it gave us great pleasure to finally make a full return to a ten day programme of events for Boyle Arts Festival 2022 and we would like to extend a heartfelt thanks to everybody who helped us make it possible.
Our voluntary committee of twelve worked over countless hours, weeks and months to develop the line-up for BAF 2022. The Festival featured 43 performance events, 26 exhibitions including a nationally renowned Art Exhibition and Open Art Exhibition, a town Art Trail showcasing the work of over thirty local artists, 6 workshops, the premiere of a new work by the winner of this year's King House Piano Commission, a book launch and a multi-cultural food event. We were also conscious of broadening our audience demographic and were delighted to include the children's Opening Night Parade and a fantastic concert by Music Generation Roscommon, showcasing the best upcoming musical talent in the area.
We would like to thank those who have supported us in so many ways over the years and without whom, there would undoubtedly be no Boyle Arts Festival. We received tremendous support as always, from the people and businesses of Boyle – in terms of sponsorship, attendance of events, provision of premises for exhibition space, voluntary help and of course that wonderful hospitality that welcomed the considerable numbers of visitors to the town. We are also indebted to The Arts Council, Roscommon Co. Council and Fáilte Ireland for their financial support and belief in us.
BAF 2022 was a resounding success, firstly because of the massive local community support, both in terms of sponsorship and the level of daily footfall at our various events and equally, the significant level of visitor attendance from all over the country and further afield.
Publicity is vital to any Festival and we would like to thank our local websites Boyletoday.com and Realboyle.com along with the regional and national newspapers and radio stations for all the publicity afforded to us, both before and during the Festival.
There are a number of others we must acknowledge for their invaluable assistance including Barry Lynch, for the use of his premises to house our Open Art Exhibition and also our information office. We also thank Rev. Edward Yendall and Canon Gerry Hanly for the use of the Church of Ireland and St. Joseph's Church, Daly's Drinks for the use of the Storehouse and Tom Gallagher and Michael O'Dowd for green room facilities at The Storehouse.
Thanks also to David Harding at Abbey Community College for facilitating our workshops and Martin Guihen at The Open Table for hosting one of our events. We also extend a very special word of thanks also to Hilary Beirne for agreeing to open our Festival and we also wish to thank Marian Ahern, for her assistance with the annual Fergus Ahern Award.
We are deeply indebted to all of our local volunteers and helpers who gave so freely of their time, especially Laura Tighe and Bernie Lyons for processing tickets during events, Marian Brogan for running our information office, Damian Wallace for assisting with hanging the artwork and all the sitters at the main exhibition.
We also wish to thank Boyle Musical Society for the use of their lighting and Benny Morgan for volunteering to photograph all of our events and allowing us to use his photos.
And finally, we would like to thank all the visual artists, performers and contributors who took part in BAF 2022 and especially all the local artists and musicians, who once again made this year's Festival so special. Without them, Boyle Arts Festival would be incomplete and it is heart-warming to think that there is so much great talent on our doorstep!
Plans are already underway for next year's Boyle Arts Festival, which will take place from July 20th to 29th 2023. We are constantly working to build on previous years, as it is our mission to offer a Festival that is constantly evolving. We are hoping to make it another fantastic and memorable experience.
For more information please go to www.boylearts.com or follow us of Facebook, Instagram and Twitter.
The Boyle Arts Festival Committee.