Events
Community Games Sports today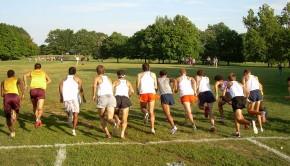 Boyle Community Games will be holding their annual Sports Day today Friday 12th May at the Abbey Community College Sports Field.
Registration will take place at 5:30pm with the  first race starting at 6pm.
Every competitor for the above races must be under the age category in which they compete  on July 31st this year  i.e under 8 on July 31st, 2017 to be eligible for under 8 competition.
All entrants must reside in Boyle Parish. Entry fee is €2 per competitor.
The events are:
Under 8          60 metres      80 metres
Under 10         100 metres 200 metres  100 metre hurdles
Under 12         100 metres 600 metres  Ball Throw                 Long Puck (Boys)
Under 14            100 metres 100 metres hurdles  800 metres Long Puck (Girls)
Under 16       1,500 metres
There also will be the very important tiny tots race( under 6's), the mother and father races which are always the highlight of the day.
Light refreshments will be served during  the results and presentation of medals.
Boyle Community Games hopes this event will be chance for the community to get together and support their young athletes as they have done in the past down through the generations.