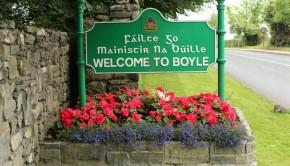 START GETTING YOUR FLOAT READY
The Boyle St Patricks Day Committee is in full swing, organising the Parade which will take Place on Thursday 17th March at 3pm starting from Mockmoyne, via Bridge Street to the Crescent. We are appealing to all Businesses, Clubs, and Associations and Societies to enter a Float this year and contribute to making it our Best ever parade. While entering a Float to the Parade is Free, any donation given will be greatly received. Looking forward to you all joining us, collecting in Mockmoyne from 2.15pm onwards.
BRIGHT SPARKS QUIZ 
If you were there last year you'll remember the great night of fun and entertainment, if not join us this year, and battle for the title of The Bright Sparks! Boyle chamber/Boyle TM are appealing to all Businesses, Societies, Clubs and individuals to come along on Good Friday to St Joseph's Hall, March 25th at 8pm. All proceeds raised go to Boyle Christmas Lights, every one welcome to come along, Table of 4 -€40 but if you can't make a table just come along and you'll be sorted.. If you want to reserve a table in advance, contact any of the following: Stephen Bohan, Patricia Golden, Deirdre Purcell, Siobhan Gallagher, Dara Callaghan, Cecil Draper or Brian Kelly.
FREE COOKERY COURSE
A Free Foundation Cookery Course organised by Role Skillnet will take place in Boyle from March 21st until April 7th. The course is designed to prepare jobseekers for employment opportunities in the hospitality/nursing home and deli sectors. Places are also available for part-time workers on social welfare. Course locations are Abbey Community College and Boyle Enterprise Centre. For more information or to express interest please email [email protected] or call 071 9673440. Role Skillnet are based at Boyle Enterprise Centre and provide funding for training in small and medium sized businesses.
SOCCER SISTERS
This Easter Boyle Celtic FC will host the FAI Soccer Sisters Camp. The camp is for girls of 7 to 12 years of age. It will take place at Boyle Celtic FC on the Monday and Tuesday 21st and 22nd March from 10am-2pm. Bookings can be made at https://payments.fai.ie/…/soccer-sisters-easter-camps-21-03… The camp will be run by fully qualified female coaches who are playing in the Women's National League. This is an ideal opportunity to introduce your daughter to the game or to help them to develop their skills further. Boyle Celtic have recently introduced U14 and U16 teams along with their U9 academy so it is hoped that initiatives such as the Soccer Sisters Camp can help the girls game to grow and prosper in the region.
CURLEW WALKERS
The next meeting of the Curlew Walkers club will take place on Sunday 20th March, meeting on the Crescent, Boyle at 10am.The walk will take place at Hangmans Hill and will be a Climb/ Grade B. Your leader for the day will be Brian Doherty who can be contacted on 086 086 9775. Please confirm times with leader or website prior to each walk www.walkingboyle.com.
TAWNYTASKIN CENTRE
An Afternoon Tea will be held in Tawnytaskin Community Centre on Easter Sunday 27th March as well as Monday 28th March at 11 o'clock. Other attractions include local stalls, cake sale and Mini to you Fashion Show. For further information contact Mary on 086 8130 005 or Mary on 085 1618.
BANK OF IRELAND ENTERPRISE TOWN
Gerry Whelehan, Branch Manager BOI, Boyle wrote: Bank of Ireland is delighted to announce that the 'Enterprise town initiative' will return to Boyle, following on from the success of 2015. A recent meeting was held in partnership with a local committee to discuss the various planned activities that will take place over Friday 1st April. The aim of the initiative is to promote and drive momentum for SMEs in the locality while showcasing all that the town has to offer.
WEEKLY CYCLES
Curlieu Wheelers weekly cycles for club members depart from the Crescent in Boyle at 10am Saturday (Ladies and mens beginners) and 9am Sunday (general club cycle). If you are interested in cycling please come along on either or both days.
PILGRIMAGE TO KNOCK
The Apostolate of Eucharist Adoration invites all Parishioners on a special Year of Mercy Pilgrimage to Knock Shrine on Sunday 24th April. There is a full programme organised for Adults, Teens and Children. The launch of a National Crusade of Prayer for Vocations will take place at the 3pm Mass. The programme begins at 11.30. Bishop Kevin Doran is the chief celebrant and homilist Fr Declan Hurley Adm, Navan, will give a talk on "Gazing at the face of Mercy" at 1.30 in the Basilica.
CV & OFFICE SERVICES
Are you looking for a new job? Are you having difficulty putting together your CV? Would you like some help? Then why not call into the Úna Bhán office in the grounds of King House, Boyle, where we will be delighted to give you any help, advice or information we can. A good CV could make all the difference in getting your job application through to the interview stage. We have a template and sheet of helpful tips to guide you through the process. We will also type your CV if you cannot do this yourself. Or you may just want to call in for a chat about your CV. All information will be treated in the strictest of confidence. For more details, contact Úna Bhán Tourism on 071 9663033. We also offer office services such as Photo Copying, Scanning, Laminating, Typing, Faxing, Binding and Printing are carried out at the Una Bhan office in the grounds of King House, for further information please contact the office on 071 9663033.