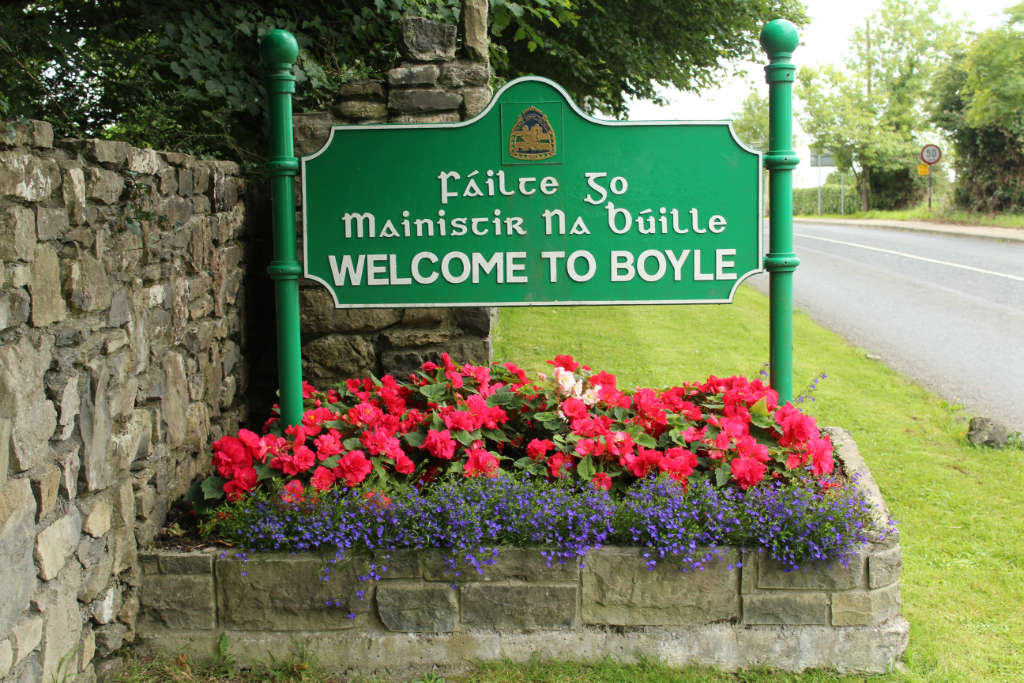 Heartfulness
A spiritual adventure will take place in the Family Life Centre, Boyle on Thursday 10th September from 3pm until 4.30pm. Come and experience the beauty of your heart through Relaxation and Meditation. For further details contact Clair Callery on 087 976 0493 or visit www.heartfulness.org
Man. Utd supporters club meeting
The Manchester United Supporters Club county Roscommon branch will hold a Membership Meeting on Thursday September 10th. It will commence at 9.30pm in The Patrick's Well, Boyle. New Members are welcome. This is the final opportunity this season to register through your local branch.
Cannonball Run in the Boyle area
Car enthusiasts are in for treat in Boyle on Friday September 11th when the seventh Cannonball Run travels past the town on the N4. The three day Cannonball Run is the largest organised road trip in Europe and the most exciting motoring and social event of the year. The trip typically features 170 cars including the world's top makes: McLaren, Lamborghini, Ferrari, Aston Martin, Porsche, Masseratti, Rolls Royce and Bentley. Cannonball Ireland has raised over 700,000 euro for Irish Children Charities. This year, Make A Wish Ireland will be Cannonball Ireland charity. It is a spectacle to behold as the cars and their colourful drivers make their way around Ireland. Friday 11th will see the cars travel from Dublin to Sligo, stopping in Carrick on Shannon 1.30 then heading for Sligo 4.30. Further details on www.cannonball.ie
Tennis
Coaching for children (5 +) will resume at the Boyle Tennis Club from Monday 12th September from 4pm until 5pm. This is a six week course until Monday 19th October. Cost will be: Members €30, non members €40 which will include membership until March 2016. For further information contact Noreen on 087 657 3046
Boyle & District Angling
Fishing for the Martin Mitchell Charity Cup will be taking place on Lough Key on Sunday 13th September from 11am until 5pm. This is a Boat Competition with all entry fees being passed onto a charity, plus the club contribution. Also taking place will be
a Ladies Cup Open Competition on Sunday 13th September from 11am until 5. This is a Boat Competition taking place on Lough Key.
Curlew Walkers Club
The next meeting of the walking club will take place on Sunday 13th September meeting on the Crescent, Boyle at 11am then on to the Burrren Loop Walk. This will be a Flat walk Grade C with your Leader being Eugene Griffin who can be contacted on 086 2560 400 for further details.
The Elderberries
Fancy some gentle exercise and something to put a smile on your face, well The Elderberries weekly movement and dance sessions for the over 55's are back in action in King House, Boyle: Thursday 24th September 11am until 12noon. Newcomers are welcome at a cost of €10. Why not pop into King House and give it a try. For further information call 071 9663 242 or text 087 3267 860.
Culture Night
An evening with Therese Fahy, Irelands leading international female pianist, will play an exciting mixture of old and new piano masterpieces at King House on Friday 18th September at 8pm admission Free. A highlight will be a piece by Roscommon based composer Siobhan Cleary, to celebrate the 150th anniversary of the birth of WB Yeats. Dublin-born concert pianist Therese enjoys an active performing career at home and abroad. Recently described by the Irish Times as a tour de force, her regular fecital and concerto appearances throughout Europe and the United States have met with critical acclaim, as have her numerous broadcast for both RTE and BBC.
Boyle Framers Market
The Market is open from 10am to 2pm each and every Saturday in the grounds of King House, Boyle. If you would like to enjoy the best locally grown fresh and organic produce, then a trip to Boyle Farmers' Market on Saturday should be on your agenda. There is a wide range of seasonal produce, including organic fruit and vegetables, homemade jams and marmalade, organic free range eggs, fruit juices, gluten free/ sour dough/ spelt bread and all kinds of delicious home bakes are available every week. Alongside the food stalls are a number of crafters selling their handmade wares, personalized candles and knitwear. So why not come along and have a chat with the stall holders and avail of their ideas. For further information please a call Una Bhan on 071 9663 033.
Boyle Golf Club
There was a great turnout on Sunday 30th August for Liz Dwyer's Lady Presidents Prize with almost thirty ladies taking part. Congratulations to Regina McLoughlin who won with a score of 68 net. The full list of prize-winners was 1st Regina McLoughlin; 2nd Michelle Quinn; Gross Tish Perry; 3rd Paula Cull; Categories 0-18 Moira Egan; 19-26 Joyce Boles; 27-36 Sandra McCrann; Past President Peggy Feely; 1st Nine Claire Cryan; 2nd Nine Marie Hanmore Cawley; Beginner 1st Eithne Gaffney; Beginner 2nd Lucy Gaffney. The prize to the Men was won by with Niall Kearney 43 pts; 2nd Ross Andrew 39 pts; Gross Gary Carty 33pts; 3rd John McGuinn 38 pts. Thursday 27th August saw the Mens Competition won by Michael Simon 24pts, 2nd Terry Bright 23pts, and 3rd Gerry Carty 23pts. Well done to Niall Kearney who won the King Harmon Final on Saturday.
Special thanks to Philip Murphy of Murphy Sweeney Golf School for providing the lessons and to Gary Carty for organising. It is hoped that the lessons will run again next year. For new players interested in joining, competitive 16 month membership packages are available, incorporating the remainder of 2015 and all of 2016. Please contact Michael on 086 2039182 or email [email protected] for more information. The club outing to Portumna takes place on Saturday October 3rd, details on notice board.
Bingo in Boyle
Every Tuesday evening in St. Josephs Hall Boyle at 8.30pm until 10.30pm. €1000 Jackpot to be won every week.
CV & Office Services
Are you looking for a new job? Are you having difficulty putting together your CV? Would you like some help? Then why not call into the Úna Bhán office in the grounds of King House, Boyle, where we will be delighted to give you any help, advice or information we can. A good CV could make all the difference in getting your job application through to the interview stage. We have a template and sheet of helpful tips to guide you through the process. We will also type your CV if you cannot do this yourself. Or you may just want to call in for a chat about your CV. All information will be treated in the strictest of confidence. For more details, contact Úna Bhán Tourism on 071 9663033. We also offer office services such as Photo Copying, Scanning, Laminating, Typing, Faxing, Binding and Printing are carried out at the Una Bhan office in the grounds of King House, for further information please contact the office on 071 9663033.