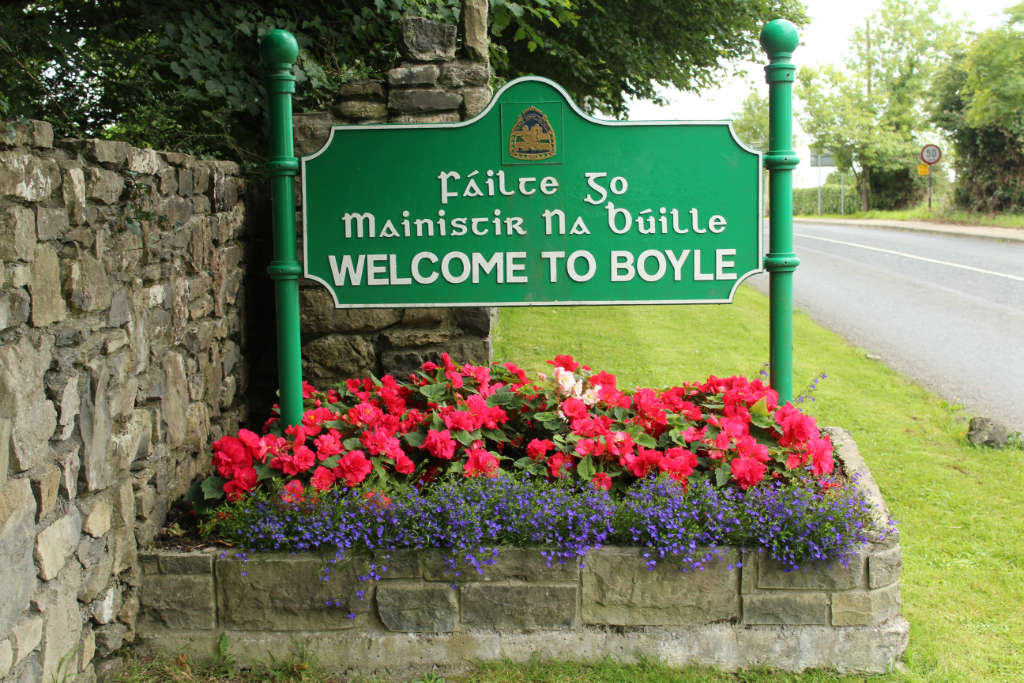 CHRISTMAS MARKETS
The Annual Outdoor Night-time Christmas Craft Fair & Market takes place in the grounds of King House, Boyle on Friday 4th December starting at 6pm until 10pm. Enjoy the first signs of Christmas cheer and atmosphere with over 20 stalls in the grounds and over 30 inside King House, you will be spoilt for choice -Christmas gift ideas, hot food, crafts & clothes, Carol Singing will also take place at 8pm. Free Mulled Wine in King House. The Annual Christmas Craft Fair takes place again on Saturday 5th from 10am until 5pm alongside Boyle Farmers Market with plenty of Christmas cheer & atmosphere – Gift ideas, hot food, free treasure hunt and craft making for your little ones and lots and lots more.
DEAR SANTA
Have you got a little someone who would like to receive a personal letter from the man in red himself this December? Una Bhan Craft Shop has established a direct line to Santa Claus and has arranged for him to reply to children's letters. Your child can write their letter to Santa and post it in the 'Special Santa Box' in the Una Bhan Craft Shop, €4 per child (to cover admin charges – no stamp required!), then leave the rest to us. Make sure your child includes their full name, address, age and special requests for Christmas and include a mention of any brothers, sisters or special friends so the reply can be really personal. We will make sure that Santa gets to read each letter and write a personal letter back, which will be posted directly to the child. Santa's Letter Service will up until Friday 18th December.
WIN A CHRISTMAS HAMPER
Receive a raffle ticket when you make a purchase at Una Bhan Craft Shop or the Boyle Farmers Market during the month of December to be included in a FREE Christmas Hamper Draw, which will take place on the last market which will be on Saturday 23rd of December at 12noon.
CYCLING INFO NIGHT
Curlieu Wheelers cycling club will host an information night for beginners and returning cyclists on Tuesday 1st December at 8pm in the Resource Centre, Boyle Information will be basic equipment, bike maintenance, nutrition, and hydration and build a starter program for the next 8 weeks which will suit all ages and abilities. This night is open to all interested in cycling. Tea and Coffee provided. Please come along and become part of a social, get-fit group.
SALE OF WORKS
The Annual Sale of Works will be held in the Church Hall, Boyle on Friday 4th December at 7pm. Work stall, bottle stall, country produce, cakes. White elephant, books, hoopla and of course Tea.
PLEASURE GROUND
Performed by Fregoli and written by Jarlath Tivnan. Fregoli in association with Boyle Arts Festival are delighted to bring the play Pleasure Ground home to Boyle – which is of course also home town to the writer, Jarlath Tivnan and the director Maria Tivnan. Pleasure Ground will be performed in St. Joseph's Hall, Boyle on Saturday December 12th at 8pm. This production is not suitable for children under 16. Tickets are available now from Taylors Jewellers, Bridge Street, Únabhán Tourism, King House, Boyle and on www.eventbrite.ie.
BOYLE EVENTS GUIDE 2016
Boyle Town Team will be printing a calendar of events guide for 2016. If you have any event or festival planned for 2016 and you would like to be included in the Free guide then please email [email protected] before Friday 4th December with your dates/times/information etc to promote the wide and exciting events in Boyle.
KING HOUSE EVENT
Roscommon County Council, in association with Citizens Information Service and Roscommon LEADER Partnership, are having a series of events under the umbrella of Arts & Disability Week 2015, from 3rd December 2015. An Information Night will be held on Tuesday 1st December in King House, Boyle from 7pm until 10pm.
CHRISTMAS BRIC A BRAC
The Family Life Centre will be holding a Bric a Brac sale on Friday 4th December from 5pm until 8pm and are looking for donations towards this fundraising event. Any good quality re-saleable items or unwanted gifts would be very much appreciated and can be handed into the Centre on Monday to Friday's. Thank you for your support.
SALE OF WORKS
Abbey Haven Care Centre and Nursing Home, Carrick Road, Boyle will hold a Sale of Work of the Residents beautiful handmade Art & Craft Products on Saturday 5th December 2015 starting at 11 O' clock. The Sale of Work is a Fundraising Event for the Residents Comfort Fund. Refreshments, Homemade Cakes, Biscuits and Christmas Baking plus tickets for our In-house Christmas Hampers draw will also be on sale. All monies raised will provide additional day trips, and enhance our current activities programme. We would love if you could join us on the day. You might pick up that special handmade gift for Christmas. All are welcome.
Abbey Community College
first Year Open Evening/Enrolment will take place on Wednesday 9th December commencing at 7pm with the Principals address at 7.30. For further information Tel: 071 966 4646 or email: [email protected] www.abbeycc.ie.
Christmas lights draw
Lines are available to purchase until Monday December 21st for Boyle Christmas Lights Cash Draw. Feature pieces are being added to our new lights this year and we look forward to the official 'Turning On' of thee lights. We are giving away cash prices this year of €1000 (1st Prize); €500 (2nd Prize); €250 (3rd Prize); €150(4th Prize); and €100 (5th Prize). Lines are €2 each or 3 for €5. Lines will be on sale in all businesses throughout the town, but if anyone has been omitted or would like a card please call Stephen on 086 8360666. Make Boyle even brighter this year, and thank you for supporting the draw.
COMMUNITY STALL AVAILABLE
Boyle Farmers Market has a "Community Stall" available in our new all-weather Farmers Market. The idea is to have a different community group attend each week to promote, showcase your wares, raise awareness of your organisation or group etc. This is for community only. We would love to hear from any groups interested in getting involved… please contact us here or email Janice on [email protected] for more details. The stall will be free and you will be a guest of the market for that day. We would love to hear from groups such as the ICA, the Scouts, Tidy Towns and so on. Please share with anyone you know that might be interested.
Boyle Golf Club
On Sunday 29th November saw the Turkey Voucher won by Jim Mooney 23pts, 2nd Michael Simon 21pts. At the Club AGM last Sunday Men's Captain Ross Andrew was elected Chairperson of the Management Committee for 2016. Brendan Gaffney was elected Club Secretary and Michael Gilmartin was elected Club Treasurer. A review of activities for 2015 was given by the Captain and Secretary and a Financial Report was given by the Treasurer. Thanks to all who work on Committees, play on Club Teams, help to maintain the course or assist the club in anyway. Special thanks to all our sponsors particularly those who sponsor Open Week. The 2016 management committee are Ross Andrew (Chairperson),Tish Perry(Lady Captain),Brendan Gaffney(Secretary), Michael Gilmartin (Treasurer), Michael Rush, Sandra McCrann, Gerry O'Hara, Mary O'Hara, Willie Tiernan, Vincent Egan, Patrick Egan, Liam Whyte, Susan O'Mahoney, Jonathan Egan, Liz Dwyer, Moira Egan & Liam Mullaney. The Trustees of the club are Claire Cryan, Vincent Egan and Pat Brogan.
BINGO IN BOYLE
Every Tuesday evening in St. Josephs Hall Boyle at 8.30pm until 10.30pm. €1000 Jackpot to be won every week.
CV & OFFICE SERVICES
Are you looking for a new job? Are you having difficulty putting together your CV? Would you like some help? Then why not call into the Úna Bhán office in the grounds of King House, Boyle, where we will be delighted to give you any help, advice or information we can. A good CV could make all the difference in getting your job application through to the interview stage. We have a template and sheet of helpful tips to guide you through the process. We will also type your CV if you cannot do this yourself. Or you may just want to call in for a chat about your CV. All information will be treated in the strictest of confidence. For more details, contact Úna Bhán Tourism on 071 9663033. We also offer office services such as Photo Copying, Scanning, Laminating, Typing, Faxing, Binding and Printing are carried out at the Una Bhan office in the grounds of King House, for further information please contact the office on 071 9663033.