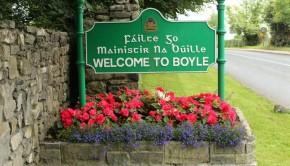 Free business advisory clinic
A free business advisory clinic, by appointment, takes place at Boyle Enterprise Centre on Thursday March 10th from 10.00am until 2.00pm. The clinic will offer advice to new and existing businesses and information on supports available. Each attendee is allotted a one hour, one-to-one meeting with business mentor Cathal Mahon. For more information or to book appointments email [email protected] or visitwww.localenterprise.ie/roscommon. The event is organised by Roscommon Local Enterprise Office as part of Local Enterprise Week 2016.
James Kilbane in Ballinameen
Ballinameen community will host a fundraising concert with James Kilbane for their community Centre, School and Church repair. Communities across Leitrim and Roscommon in rural Ireland are now more than ever joining together to help this fundraiser for vital local amenities and daily community facilities. In Ballinameen, the community are coming together on Sunday 13th March to hold a concert with leading Irish singer James Kilbane in the Ballinameen Community Centre. The event is being organised by the village locals as there is a growing need within the community to take a greater role in fundraising to maintain their local community centre, school fund raising needs at Kingsland N.S. There is also need to carry out repairs to the Ballinameen church working towards a total new roof as the present one is 113 years old. All three fundraising needs play a very central part in the everyday life of the local community with all three located just yards from each other. The Ballinameen community are looking forward to hosting the Irish, Country and Gospel concert in their Community Centre with multi-platinum selling James Kilbane for a wonderful night of Irish and folk favourites from ballad to anthem. Kilbane will be including many of his popular country songs as well as many Irish and gospel favourites..Tickets are available in Mulveys in Carrick on Shannon, Cooney's and McDonagh's garages in Boyle, Oliver McDermott in Frenchpark, 8 Till Late in Roscommon, Clancy's in Elphin, The Percy French Hotel in Strokestown, Super Valu in Ballaghadereen, Super Valu in Castlerea, The Cross Bar, Ballinameen, The Four P's in Rathallen or direct from concert members or by contacting Carmel at 0866011866 or Johnny at 086 1019149. Concert starts at 8 pm and doors open at 7.30 pm. All support will be appreciated by the Ballinameen community and area.
Railway Preservation Society
The RPSI will run a Vintage Steam Train from Carrick to Boyle and return on Sunday 13th March. The train will be headed by Loco No.4 built in 1947 and acquired by the RPSI in 1971. The carriages were built by Cravens of Sheffield in the early 1960's and acquired by the Society in 2006 when the last of them came out of service.
Information: 11.00: Train will depart from Connolly Station for Carrick Tickets: 14.25: Depart from Carrick. Tickets for the Carrick / Boyle trip are available in Mulveys, Main Street, Carrick. 5.25: Depart from Boyle.
Start getting your Float ready
The Boyle St Patricks Day Committee is in full swing, organising the Parade which will take Place on Thursday 17th March at 3pm starting from Mockmoyne, via Bridge Street to the Crescent. We are appealing to all Businesses, Clubs, and Associations and Societies to enter a Float this year and contribute to making it our Best ever parade. While entering a Float to the Parade is Free, any donation given will be greatly received. Looking forward to you all joining us, collecting in Mockmoyne from 2.15pm onwards.
Free foundation cookery course
A Free Foundation Cookery Course organised by Role Skillnet will take place in Boyle from March 21st until April 7th. The course is designed to prepare jobseekers for employment opportunities in the hospitality/nursing home and deli sectors. Places are also available for part-time workers on social welfare. Course locations are Abbey Community College and Boyle Enterprise Centre. For more information or to express interest please email [email protected] or call 071 9673440. Role Skillnet are based at Boyle Enterprise Centre and provide funding for training in small and medium sized businesses.
Boyle Celtic Soccer Sisters
This Easter Boyle Celtic FC will host the FAI Soccer Sisters Camp. The camp is for girls of 7 to 12 years of age. It will take place at Boyle Celtic FC on the Monday and Tuesday 21st and 22nd March from 10am-2pm. Bookings can be made at https://payments.fai.ie/…/soccer-sisters-easter-camps-21-03… The camp will be run by fully qualified female coaches who are playing in the Women's National League. This is an ideal opportunity to introduce your daughter to the game or to help them to develop their skills further. Boyle Celtic have recently introduced U14 and U16 teams along with their U9 academy so it is hoped that initiatives such as the Soccer Sisters Camp can help the girls game to grow and prosper in the region.
Making Boyle beautiful
From seeds to flowers: Mandy Toolan of Boyle Tidy Towns committee is appealing to any flower lovers who may be growing their own flowers from seeds, and would like to donate some to enhance Boyle town, to get in touch with her call 086 081 1434 or e-mail on [email protected]
Bright Sparks quiz
The enjoyable Bright Sparks Quiz night is a little over three weeks away. The quiz will take place on Good Friday March 25th in St. Joseph's Hall commencing at 8pm. Teams of 4 cost €40 with all proceeds going to the Boyle Christmas Lights fund. To reserve a table please e mail Stephen on [email protected]
Curlew Walkers outing on Sunday
The next meeting of the Curlew Walkers club will take place on Sunday 20th March, meeting on the Crescent, Boyle at 10am.The walk will take place at Hangmans Hill and will be a Climb/ Grade B. Your leader for the day will be Brian Doherty who can be contacted on 086 086 9775. Please confirm times with leader or website prior to each walk www.walkingboyle.com.
Boyle Golf Boyle
On Sunday 27th February saw the Captain's Drive take place, with a strong turnout showing their support. The first two tee shots were struck by Ross Andrew and Mary O'Hara, the latter deputising for Lady Captain Tish Perry. The winners of the scramble that followed were Terry Canning, Liz Dwyer & Tommy King. Pipped into second was the quartet of Gary Carty, Michael Simon, Pat Conroy & Marie Hanmore-Cawley. In third position were Jim Mooney, Michael Gilmartin and Lewis Shaw. Also, thanks to Jim Mooney for providing his photography service for the day. At the presentation that evening, prizes were also presented to the winners of competitions for the previous few weeks. The monthly club draws for December, January and February followed. Respectively, first prizes went to Liam Whyte, Padraig O'Connell, and Harry & Marie Wynne. Runners up were Ted Hestor, Mary O'Hara, Sean Heslin, Harry & Marie Wynne, Claire & John Cryan, and Jimmy & Pauline Doyle.
Aughanagh Parish Fundraising Committee
A belated but sincere "thank you" from Aughanagh Parish Fundraising Committee to everyone who contributed to make their Fundraising Bazaar such a great success which was held in Ballinafad on the 29th of November 2015. Thanks to all who gave such generous prizes, hampers, vouchers and gifts for the raffles and to all who came to support us in such large numbers on the night. Thanks to all who helped & supported us in any other way also. We appreciate your support in the past and looking forward to your future support.
CV & Office Services
Are you looking for a new job? Are you having difficulty putting together your CV? Would you like some help? Then why not call into the Úna Bhán office in the grounds of King House, Boyle, where we will be delighted to give you any help, advice or information we can. A good CV could make all the difference in getting your job application through to the interview stage. We have a template and sheet of helpful tips to guide you through the process. We will also type your CV if you cannot do this yourself. Or you may just want to call in for a chat about your CV. All information will be treated in the strictest of confidence. For more details, contact Úna Bhán Tourism on 071 9663033. We also offer office services such as Photo Copying, Scanning, Laminating, Typing, Faxing, Binding and Printing are carried out at the Una Bhan office in the grounds of King House, for further information please contact the office on 071 9663033