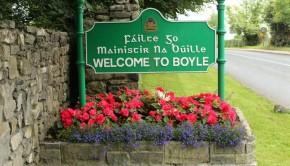 ST. PATRICK'S DAY MEETING
The day is fast approaching and the first meeting will be held on Tuesday 9th February at 6pm in Clarkes Bar, Patrick Street. We appeal to businesses in Boyle and indeed anyone who would be interested in getting involved in the organisation of the Parade, to come along on Tuesday 9th, in particular, Cafes, Restaurants and Bars, as they are the main beneficiaries of the event. The Parade has drawn great crowds to the town over the last number of years and we are hoping this year will be even bigger than before.
FREE COMPUTER CLASSES
Places still available on Beginners Computer classes running over 8 Tuesday afternoons commencing Tuesday 9th February from 2-4pm at Roscommon Learning Links, Elphin Street, Boyle. Just come along on Tuesday to register.
FALL IN LOVE WITH BOYLE WEEKEND
The residents of Boyle and the surrounding area are in for a treat this February 14th as the town's business people have been working together to create a Valentine's weekend to remember in Boyle. From live music to special Valentine's menus in the town's restaurants, to a whole range of special offers in stores, The Town team are delighted to have been able to use funding from Roscommon County Council via the Boyle Town Team fund, to initiate and support the "Fall in Love with Boyle" initiative with posters, special offer leaflets and marketing of the weekend. We are hoping that local residents will consider shopping, eating and partying in town over Valentine's weekend and rediscover the many reasons to "fall in love with Boyle"!
BACK TO EDUCATION COURSE
BTEI provides flexible learning opportunities for young people and adults; its aim is to give people the opportunity to combine a return to learning with family, work and other responsibilities. People over 16 years of age and out of full time education. Courses are offered free of charge to the following: Medical/GP Card Holders, Those in receipt of a Department of Social Protection payment and those with less than leaving Cert. Courses include Horticulture; Level 4 – Horticulture Module; Level 3. Induction for both of the above courses is Wednesday 17 February at 11am. For further information Email: – [email protected] tel: – 071 9668963
CIARAN EMMETT SESSION 10 YEARS ON
On Friday 4th March King House Boyle will be holding a weekend launch and fundraising featuring: Charlie McGettigan, Mary &Tommy Finn, Frankie Simon, Brendan & Ollie Farley, Rosie Stewart, Paul & Brendan Emmett, Bernard Flaherty & Joe Kennedy among others. MC on the night will be Tony Conboy. Tickets are now on sale in Una Bhan Tourism, Grounds of King House, Boyle. On Saturday 5th March sessions at various venues around the town from 4pm, all musicians welcome. All proceeds to Roscommon/Mayo Hospice & The Tommy Simon Fund.
BOYLE TOUGHEST MUCKERS
Event details and schedule: Registration/waiver signing begins at 10am on Sunday 28th February with the first wave of 100 setting off at 12 and every fifteen minutes thereafter. Please arrive at least 30 minutes before your time as you need to sign waiver and get warmed up by are fitness team. There is ample parking run by the forest park. Wear training gear for the challenge (runners will get mucky) but remember to bring a change of clothes to enjoy the festivities afterwards, free hot showers, free beer and free food are for everybody competing (tickets given on the day)
GARDEN CONSULTATION
Arcane Garden Centre will hold a free Mini Garden Consultations at their Boyle Centre on Wednesday mornings throughout February. You can avail of expert advice and ideas on how to design your garden. Consultations last 20 minutes and must be booked in advance. Tel: 071 966 7091
GRANGE NS
if you are interested in enrolling your child in our Grange School for the 2016/2017 school year, please contact the school far and enrolment pack on 071 966 3423 or by email at [email protected] the closing date is Friday 12th February. Also you can check out our blog for more information on www.grangeensboyle. Scoilnet.ie/blog
COOTEHALL N.S. ENROLMENT
St. Michael's & St. Patrick's N.S. Cootehall, Boyle enrolment for the 2016/2017 school year will take place up until Friday 12th February, 2016 during school hours. Enquiries and further assistance is also available by contacting the Principal's office in the school – phone no. 071-9667264.
CURLEW WALKERS
The next meeting of the club will take place on Saturday 14th February, meeting on the Crescent, Boyle at 9am. The walk will take place at Glencare – Mines and is a Climb grade B+. Your leader for the day will be Naomi McBride 087 6743 693 and Pamela Barnes on 087 2027 513. Please confirm times with leader or website prior to each walk www.walkingboyle.com.
INFORMATION EVENING
Michael Neville MK Financial Adviser invites you to an information evening on Friday 19th February in the Boyle Enterprise Centre. Quarry Lane, Boyle at 6.15 until 7.30. A glass of wine and light refreshments will be served to celebrate the launch of the new website www.mkfinancial.ie
BOYLE GAA DRAW
Boyle GAA club have launched their "New York Draw 2016″ 1st prize is a 5 night trip to New York which also includes transfer from the airport to hotel, to and from the match and from the hotel to the airport. 2nd prize is a 32 inch Normende Television. 3rd prize is a Samsung Galaxy Tab E 9.6 inch 8 GB. 4th prize is Weekend Getaway Break Tickets are available from club officials and members and draw will take place on March 27th.
CV & OFFICE SERVICES
Are you looking for a new job? Are you having difficulty putting together your CV? Would you like some help? Then why not call into the Úna Bhán office in the grounds of King House, Boyle, where we will be delighted to give you any help, advice or information we can. A good CV could make all the difference in getting your job application through to the interview stage. We have a template and sheet of helpful tips to guide you through the process. We will also type your CV if you cannot do this yourself. Or you may just want to call in for a chat about your CV. All information will be treated in the strictest of confidence. For more details, contact Úna Bhán Tourism on 071 9663033. We also offer office services such as Photo Copying, Scanning, Laminating, Typing, Faxing, Binding and Printing are carried out at the Una Bhan office in the grounds of King House, for further information please contact the office on 071 9663033.