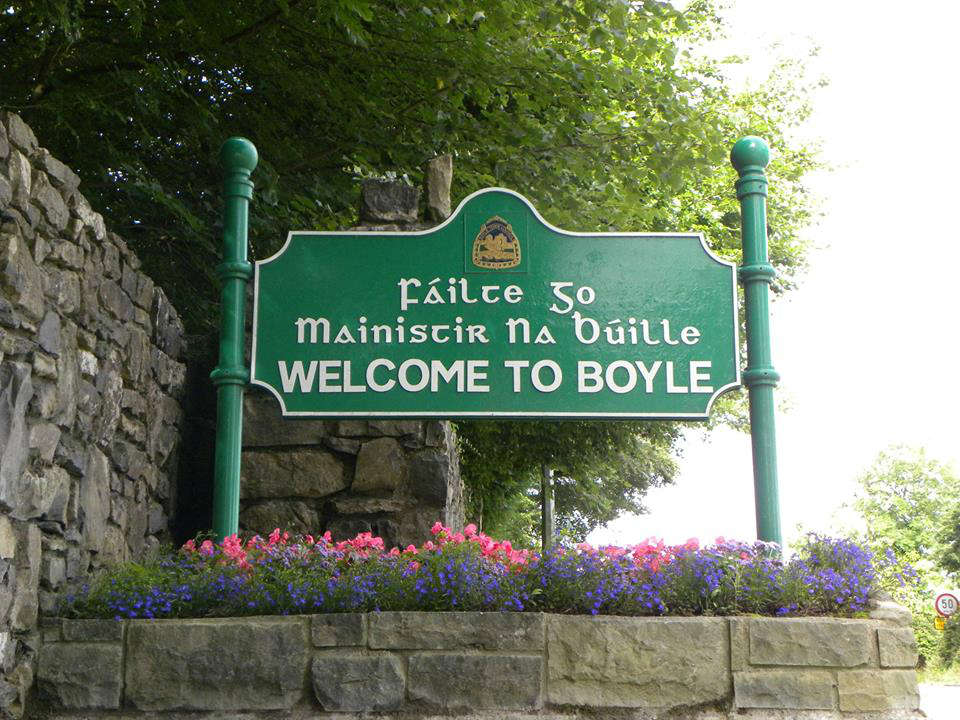 King House Event
Revolted is a brace of solo plays by Donal O'Kelly to mark Bloomsday 2015. Revolted traces James Joyce's odyssey through Dublin up to his departure into exile. The performance earned Katie O'Kelly a "Best Solo Performance" in Edinburgh. Hairy Jaysus tells the story of Joyce's friend Sheehy-Skeffington, the forgotten executed man of 1916.  Sheehy-Skeffington was a pacifist and campaigner for votes for women. He was jailed under hard labour in June 1915, exactly a century ago for making forty speeches against recruitment to the British Army. Both shows together prompt the question – who was the more revolutionary in outlook – Sheehy-Skeffington or Joyce. Taking place on Thursday 11th June at 8pm in King House, Boyle. Tickets can be obtained in King House or for further information call 071 9663 242.
Boyle Businesses on TV
Three Boyle businesses Boyletoday.com, Drumanilra Farm and Wildebeest Clothing will feature County Matters on Irish TV (Sky 191) on Monday June 8th.
Boyle GAA
Basic First Aid Training for Coaches will be held in the GAA Clubroom at 7pm on Thursday next 11th June. At least one member of each Management Team (male and female teams} is asked to attend. Managers are urged to give this course top priority and ensure that at least one member of their management team attends.
Toughest Muckers
Irelands Toughest Muckers is a strength and endurance challenge and is set over a distance of 10 km with 15+ obstacles that you need to overcome. Some obstacles will need help and assistance from your fellow competitors. Never leave a fellow competitor struggling at an obstacle. Prizes will be given for those who show good camaraderie and fun over each obstacle. This event is designed to test your body and mind, but we want everyone to have fun and enjoy the day. Similar to the fire service and army help, support and team work are the key drivers with this event. At Irelands Toughest Muckers we believe you need to push your body to the limits and this is the ultimate challenge for you to test just how tough you are! Ireland's Toughest Muckers challenge in Lough Key Forest Park will take place on June 13th .
Curlew Walkers Club 
The next meeting of the walker club will take place on Saturday 13th June to Coney Island this will be a Flat grade C meeting on the Crescent (meeting time dependent on tide). Please contact Zeta Griffin on 086 366 1336 for further details.
Call for Creative Submissions
Calling all artists, photographers, designers and poets! Boyle Arts Festival invites you to enter two creative competitions in the run up to this summer's spectacular festival- The Open Art Exhibition and Poetry Competition. The work is selected on merit and entries have been selected from part-time, full-time and occasional artists, giving a unique blend and standard of excellence. The overall winner will be presented with the Sue Hill Perpetual Trophy. Entries will be accepted in any medium, to a maximum of 3 per person. If you would like to take part, works should be brought to the Church of Ireland School, Boyle (on the same road as the Garda Station and opposite the Family Life Centre) on: Friday, 3rd July between 4pm & 6pm. Saturday 4th July between 3pm & 5pm. If you are more of a writer, Boyle Arts Festival Poetry Competition is the ideal opportunity to showcase your work and explore the world of words. You can enter as many poems as you like but all work must be the unpublished, original work of the author.  An Entry Form must accompany the work and this can acquired by emailing [email protected] or you can download it from the site. This year's competition will be judged by poet and writer, Joseph Woods who has judged numerous literary prizes including the Salmon Poetry Publication Prize, Irish Times/Poetry Now Prize, the International Strokestown Prize, Cúirt New Writing Prize and the Cork Literary Review Poetry Manuscript Competition. Full entry details for both competitions are available on our website www.boylearts.com. The nationally renowned Boyle Arts Festival will begin on Thursday, July 23rd and continue until Saturday August 1st. It promises a very exciting and diverse programme of events, including an eclectic mix of visual arts, music, drama, film, free family events, workshops, storytelling, readings and much more. For regular updates and competitions, check in with us on Facebook at and on Twitter at @boyle.arts.
Boyle Golf Club
Well done to Charlie O'Donnell who won the inaugural Committee Cup in an exciting finish on Sunday31st May. Charlie took a one point lead into the final round and narrowly pipped Lewis Shaw and Gary Carty by half a shot. Well done to Peggy Feely who was the overall Ladies winner. At the presentation Mens Captain Michael Rush thanked Lady Captain Sandra McCrann and all who had taken part or helped in any way to make the competition a success. The full list of winners are as follows: Charlie O'Donnell, Mens 1st Lewis Shaw, Ladies 1st Peggy Feely, Mens 2nd Gary Carty, Ladies 2nd Liz Dwyer, Mens 27 Gross Sean Heslin, Ladies 27 Gross Tish Perry, Mens 3rd Martin Wynne, Ladies 3rdAttracta Keville, Categories 0-18 Liam Whyte, 19-24 Shane Loftus, 25-36 Regina McLoughlin. 1st Nine Jonathan Egan, 2nd Nine Pat Brogan, 3rd Nine Michael Rush.The Nurture Africa draw took place Sunday evening. Karen Carty thanked club members for their support. Susan O'Mahoney, Brendan Gaffney and Mary McDermott were among the prize winners.Thursday 28th May saw the night's Mens Competition won by Shane O'Dowd 27pts, 2nd Vincent Egan 26pts, 3rd Michael Rush 26pts. Fridays Scramble was won by Charlie O'Donnell, Moira Egan & Sean McLoughlin, 2nd Michael Rush, Michael Simon & Eamon Perry, 3rd Sandra McCrann, Liam Mullaney & Liam Whyte. Dates for your diary are the Bartley Moran trophy on June 14th.
Boyle Farmers Market
The Market is open from 10am to 2pm each and every Saturday in the grounds of King House, Boyle. If you would like to enjoy the best locally grown fresh and organic produce, then a trip to Boyle Farmers' Market on Saturday should be on your agenda. There is a wide range of seasonal produce, including organic fruit and vegetables, homemade jams and marmalade, organic free range eggs, fruit juices, gluten free/ sour dough/ spelt bread and all kinds of delicious home bakes are available every week. Alongside the food stalls are a number of crafters selling their handmade wares, personalized candles and knitwear. So why not come along and have a chat with the stall holders and avail of their ideas. For further information please a call Una Bhan on 071 9663 033.
Bingo in Boyle
Every Tuesday evening in St. Josephs Hall Boyle at 8.30pm until 10.30pm. €1000 Jackpot to be won every week.
CV & Office Services
Are you looking for a new job? Are you having difficulty putting together your CV? Would you like some help? Then why not call into the Úna Bhán office in the grounds of King House, Boyle, where we will be delighted to give you any help, advice or information we can. A good CV could make all the difference in getting your job application through to the interview stage. We have a template and sheet of helpful tips to guide you through the process. We will also type your CV if you cannot do this yourself. Or you may just want to call in for a chat about your CV. All information will be treated in the strictest of confidence. For more details, contact Úna Bhán Tourism on 071 9663033. We also offer office services such as Photo Copying, Scanning, Laminating, Typing, Faxing, Binding and Printing are carried out at the Una Bhan office in the grounds of King House, for further information please contact the office on 071 9663033.