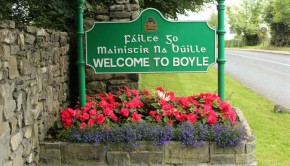 BOYLE LIBRARY – SUMMER STARS 2018
On Tuesday 7th August at 2pm there will be Storytelling and Activities with Danielle Allison for 3-4 year olds. Booking is required 071 966 2800 [email protected]
FREE CUT FLOWER EVENT
Ardcarne Garden Centre, Boyle & Roscommon Town.  The Free Cut Flower Event will take place on Saturday 11th August at 11.30am until 12.30 pm. Discover the best flowers to grow at home to use for arrangements and how to create the perfect bunch for yourself or to give as a gift. Free Event – All welcome
JUNIOR GOLF IN BOYLE
Junior golf continues on Wednesday's at Boyle Golf Club and will commence at 6pm. All children 8 years of age or older and interested in learning the basics of the game are welcome. All equipment will be provided.
BOYLE SUMMER SHOW 2018
The Summer Show 2018 will be held again this year, at the Boyle GAA Training Grounds, located at The Warren on the Town. side of Drumderrig Nursing Home Sunday 12th August. The location is ideally situated close to the town, on level ground and sheltered from the elements. One of the biggest highlights this year is hosting "the All Ireland Champion Spaniel" competition for the 2nd time. The Dog Show will be under canvas, so come rain or shine, the dogs will look fantastic. Pony clubs from the region will also be competing for the best pony club accolade, showcasing their expertise in jumping, with all the popular attractions and competitions, over 40 stalls and fun for all the family.
SMART START PRE-SCHOOL OPEN DAY
Smart Start Pre-school, Aughnagrange, Boyle will hold their Open Day on Saturday 18th August 2018. Parents/guardians are welcome to attend the open day from 10am until 12pm, where they will get to view the pre-school and get a taste pre-school life!  Opening this September, and parents will be able to get a registration form at the Open Day. All staff will be qualified to the highest standard, and are highly experienced. We are looking forward to seeing everyone on the day.
PLANNING FOR HERITAGE WEEK IN BOYLE
Boyletoday.com reports that a number of events and are planned for Heritage Week in Boyle including: A Sacred Island before Christianity – Ardcarne Church of Ireland (August 22nd). Mighty Moths – King House (August 23rd). Family Nature Walk – King House (August 23rd). King's Trail Bus Tour – Grounds King House (August 18th and 25th). 'Gathering' – King House (August 18th to 25th). 'Dig It' Archaeology for Children – Lough Key Forest Park (25th August). National Heritage Week 2018 will take place between the 18th and 26th August. Coordinated by the Heritage Council, National Heritage week is Ireland's most popular cultural event and this year over 450,000 people are expected to participate in over 2,000 heritage events around the country. Over thirty community groups, organisations and individuals have organised more than fifty events around County Roscommon to celebrate the rich and diverse heritage that is there for us all to enjoy. Events range from lectures, launches, nature walks, visits to historic houses and gardens, music, poetry and song to family fun events. Many of the events are free and highlight the abundance of great work that is carried out in communities all around County Roscommon including Boyle to care for and promote our built, natural and cultural heritage.
SCHOOL OPENING DATES ANNOUNCED
Boyletoday.com reports that Abbey Community College has announced opening dates as follows for the new school term: Tuesday August 28th – 1st year school begins (9am – 1.30pm) Wednesday August 29th – 1st year school and start day for 3rd and 6th year Thursday August 3oth – School for all years except TY Friday August 31st – Meeting for 1st year parents Monday September 3rd – TY school year commences
HEALTH & WELLBEING CRAFT FAIR
A Health and Wellbeing Craft Fair will be held in Boyle in September. The Fair will take place in the Spool Factory Event Centre on Sunday September 9th from 11am to 6pm. The event is open to all complementary therapists, crafters, soap makers, crystals etc. If you are unsure if your craft is suitable please message Lucy below. To book your table or for more details contact Lucy through Facebook, email [email protected] or phone 0896038531
CURLEW WALKERS CLUB
The next meeting of the Curlew Walkers will be Sunday 9th September meeting on Crescent, Boyle at 10 am and will leave for Leean and Doons. This will be Climb Grade B. The leader for the day will be David Brett who can be contacted on 086 8841 763.. Please confirm times with leader or website prior to each walk www.walkingboyle.com
KIDS TRAVEL FREE ON LOCAL LINK BUS
The popular Local Link bus service to and from Boyle and Lough Key Forest Park is now in full operation for the summer season. This July kids travel free on the service. The bus will run through to 31st October 2018.The Lough Key Forest Park Service links visitors to the Park seven days per week, providing four return scheduled services daily. It also serves Boyle Marina. The Local Link Bus departs from Boyle at King House to Lough Key Forest Park at 11:00, 14:30. 18:30 and 21:45.The Bus departs from Lough Key at 11:30, 15:00 and 19:00
BOYLE GOLF CLUB RESULTS
Captains Prize 2018 – Well done to Brendan Gaffney who was the winner of the Captains Prize for 2018. Padraig O'Connell made a valiant effort to thwart Brendan's attempt at a third Captains Prize, having been 3 shots behind him going into the 9-hole playoff and closing the gap to 1.5 shots, but it was not to be. Brendan was presented with his prize by the captain, Terry Canning, in a presentation in the clubhouse on Sunday night. It was great to see both a strong turnout on the day and a number of new faces playing in their first Captains Prize. The other prize winners were as follows – Best Gross Score- Charlie O'Donnell , 3rd – Tom Kearney, 18 nett – Pat Conroy, Past Captain – Jim Mooney, Seniors Prize – Vincent Egan , Category 0-15 – Michael Simon, Category 16-20 – Kevin O'Connor, Category 21-28 – Tommy King, First Nine – Sean Heslin, Second Nine – Lewis Shaw, Third Nine – Michael Gilmartin, Student Prize – Cillian Doyle. Captains Prize To The Ladies – 1st – Mary O'Hara, 2nd – Susan O'Mahoney, Best Gross – Liz Dwyer, 3rd – Ruth Hogg.Mens Midweek Competition – The winner of the men's mid week competition on Thursday the 26th July  was the evergreen Ted Hester. Ted employed his wealth of golfing experience to bring in a fine score of 28 points and thus become the appreciative owner of a bottle of Hennessy.
COURTYARD MARKET
The Market takes place every Saturday in the Grounds of King House, Boyle from 10am until 2pm. If you would like to enjoy the best locally grown fresh and organic produce, then a trip to the Courtyard Market should be on your agenda. There is a wide range of seasonal produce,
CV & OFFICE SERVICES
Are you looking for a new job? Are you having difficulty putting together your CV? Would you like some help? Then why not call into the Úna Bhán office in the grounds of King House, Boyle, where we will be delighted to give you any help, advice or information we can. A good CV could make all the difference in getting your job application through to the interview stage. We have a template and sheet of helpful tips to guide you through the process. We will also type your CV if you cannot do this yourself. Or you may just want to call in for a chat about your CV. All information will be treated in the strictest of confidence. For more details, contact Úna Bhán Tourism on 071 9663033. We also offer office services such as Photo Copying, Scanning, Laminating, Typing, Faxing, Binding and Printing are carried out at the Una Bhan office in the grounds of King House, for further information.