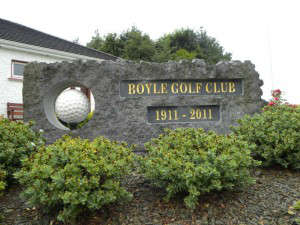 Last Sunday's 18 hole was cancelled due to flooding on the course. The competition will be rescheduled. The weekly nine hole was won by Charlie O'Donnell 22pts, 2nd James Shivnan 22pts.
Next Sunday March 1st is the Captains Drive-in when Captains Michael Rush and Sandra McCrann will "Drive off" the golfing year. The drive in takes place at 12.30pm and will be followed by a nine hole scramble (shotgun start). Draw will take place at 12.00pm. The presentation of prizes and the club draw will take place after the scramble. The weekly nine hole can be played Monday to Saturday, entry fee €5, re-entry €3.
The draw for the Spring League has taken place, please see noticeboard and website for format and rules. First round to be played anytime between Friday 6th March and Sunday 8th March.
In ladies news, The nine hole re-entry for week 2nd to 8th February was won by Paula Cull, 2nd was Carmel Conlon. The 9 hole 9th to 15th February was won by Peggy Feely, 2nd Joey Mullaney.   Ladies please put your name on board list for the Spring League running three Sundays, 8th, 15th and 22nd March. Also names please for Club outing to Mount Temple on March 28th.
The club will have a stand at the Sports and Community Expo in King House next Saturday morning from 11.00/2.00. Volunteers for the stand will be appreciated.
The clubs newly re-furbished website has been launched with new additions including an online booking system.