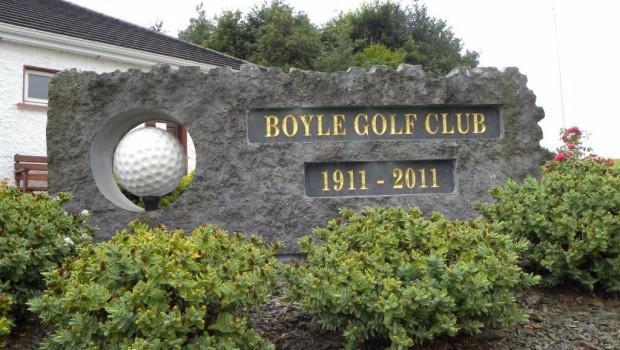 Results
Captain's Prize to Ladies (Sun 24th)
1st Liz Dwyer (16) 69 nett
2nd Kathleen Candon (29) 70 nett
Gross Tish Perry 89
3rd Sandra McCrann (33) 74 nett
Gents 18 Hole Stableford GOY R13 (Sun 24th)
1st Gerry Carty (13) 42pts
2nd Jim Mooney (10) 39pts
Gross Gary Carty 33pts
3rd Paul Connolly (19) 39pts
Boyle Arts Festival Open Competition (Sat 23rd)
1st Cillian Doyle (18) 43pts
2nd Michael Simon (15) 42pts
3rd Tommy King (24) 41pts
Men's 12 Hole Open Competition (Thurs 21st) 
1st Cillian Doyle 30pts
2nd Michael Costello 26pts
Scramble (Fri 22nd)
1st Brendan Gaffney, Tish Perry, Paul Connolly & Ted Hester.
Fixtures
Thurs 28th – Ladies & Gents 18 Hole Par 3 Competition. (3/4 of Handicap)
Fri 29th – Captain's Scramble (Draw 6.30pm, Shotgun Start 6.45pm)
Sun 31st – Ross Andrew's Captain's Prize.
The club wishes Ross every success for his weekend.
Club Matchplay
Outstanding quarter final matches in the King Harmon Cup are to be play by this Saturday 30th July.
Interclub Golf
The final remaining interclub competition on our gents calendar is the Connacht Shield which is scheduled forTuesday 2nd August away to Ballaghaderreen. Those who wish to make themselves available for selection should write their name on the relevant sheet on the club noticeboard or contact team captain Brendan Gaffney.
Junior Golf
Free golf lessons for junior members continues every Saturday morning from 11am to 1pm.