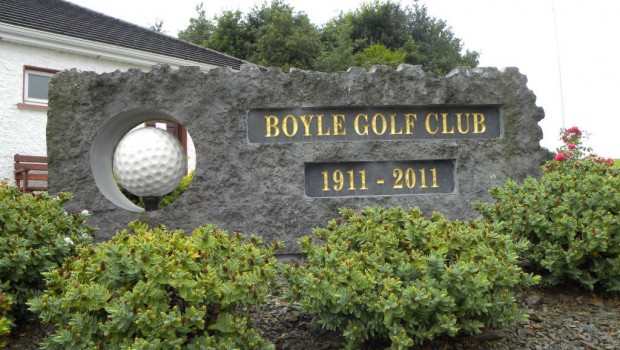 RESULTS – An 18 hole Gents' Foursomes competition took place on Sunday the 10th of March. Results to follow.
MEMBERSHIP – We would be grateful if any memberships due could be paid in the next few weeks. For any new members, membership rates are available on www.boylegolfclub.com, with particularly competitive rates for those who are taking up golf for the first time. We have been happy to see some new faces playing golf in Boyle in the past few weeks and the Mens' Committee meeting this month approved applications for 5 new members.
UPCOMING COMPETITIONS – A Gents 18 hole Stableford will take place on Sunday the 18th of March, followed on Sunday the 25th of March by the Boyle heat of the Holmpatrick Cup for the men. There will also be an 18 hole Stableford for the Ladies that day.
The Easter weekend will see a club fundraiser, playable from Saturday the 31st of March to Monday the 2nd of April inclusive. The format will be an 18 hole Fourball Shambles (i.e on each hole all players on the team drive off, all then play their second shot from their teams' best drive and complete the hole as per a scramble). All members are encouraged to enter and to recruit any of their friends in other clubs that may be interested in playing.
The first of the Interclub matches for 2018 takes place in early April with the Boyle men hosting Ballaghaderreen in the Connaught 9 hole clubs competition.
There is a sheet on the noticeboard for all members interested in going on the club outing to St Margaret's on the 14th of April.

WORKS ON THE COURSE – There will be a meeting held in the clubhouse in the coming weeks to organise volunteers for various duties during the year. Volunteers are absolutely essential for the running of the club and members are encouraged to consider contributing a few hours of their time during the year, whether it be behind the bar, on the course or maintaining the clubhouse and its immediate environs.
Weather permitting, it is hoped to carry out some verti-draining in the first week in April to include both the greens and the areas damaged by cattle in December. This work requires sand to be brushed in to the holes created by the drainage machine, and the club requests that any members who may have some spare time that week to bring a brush and help out for a while. A new shed is currently under construction to the rear of the existing one and it is also hoped to commence the finishing touches to our new practice chipping green shortly.