News
Boyle launch for new science book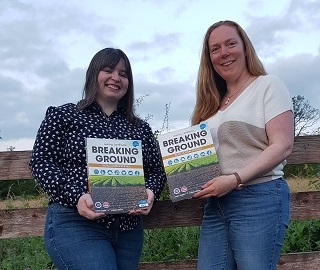 A new Leaving Certificate Agricultural Science book, written by two Boyle residents, will be launched on Saturday.
'Breaking Ground' is published by teachers Carol Cronin and Sandra Tiernan.
It will be launched in Drumanilra Farm Kitchen on Saturday morning at 11am and all are invited to attend.
Both Carol and Sandra are Agricultural Science teachers in Abbey College and Sligo Grammar School respectively.
The authors had to write a number of case studies on farm businesses and products as this forms part of the new syllabus which is being introduced by the Department of Education this coming September. One of the businesses that features in the book is Drumanilra Farm Kitchen.
In previous editions of the book Carol and Sandra have been keen to use local knowledge where possible and have featured Castlemine Farm in Roscommon and have consulted at length over the years with Brian Costello at Lough Gara Farm in relation to dairy farming and grassland management.
The publicity photographs that the Gavin's use for Drumanilra are used in the book and were taken by local photographer's Tony Murphy and Matthew Gammon.
Carol and Sandra's current textbook is used by about 80% of agricultural science students nationally, and according to the girls they are keen to be able to promote local farming enterprise where possible.
The book is available to purchase here