News
Boyle man on winning rifle team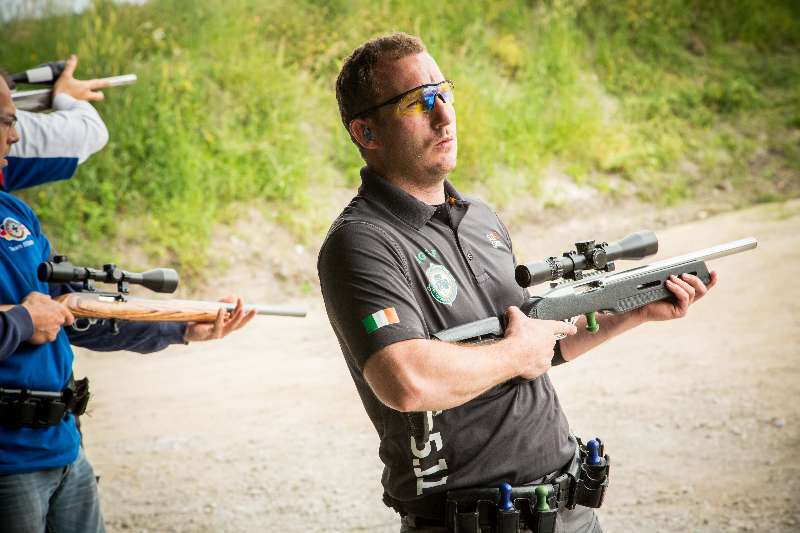 Congratulations to Boyle man Daniel O'Flaherty (pictured) who was a member of the World Championship Irish Gallery Rifle Team.
The Irish team won the team World Championships in Gallery Rifle Centerfire and Smallbore in a very competitive match against Teams from Great Britain, Germany, South Africa, Australia and Germany.
Ireland also won the individual world championship in both Centerfire and Smallbore to make it a clean sweep on the first occasion of holding the IGRF world championships in Ireland. Irelands Jeff Kehoe won Centerfire and Irelands Ray Holohan won Smallbore individual world champion.
Midlands National Shooting Centre in Offaly hosted the international competition with competitors from the 20 NASRPC clubs in Ireland attending and from countries around the world.
Boyle man, Daniel O'Flaherty is the son of local firearms dealer Brian O 'Flaherty of Abbey Marine and Field Sports in Boyle. Daniel is in the film business and has worked on major TV and film projects such as Moone Boy. Daniel Captained the winning Smallbore team.
The IGRF World Cup and Irish Open was a great success with all of the nations commending the venue, Irish hospitality and professionalism of the organisers and Range Safety Officers.
Ireland is already looking forward to travelling to the next IGRF World Championship in South Africa in 2019 to defend their title.
The next International for the Team Ireland teams will be in Leitmar, Germany in November.

Centerfire Champions :
Irish National winning team : Jeff Kehoe, Mike Nestor, Pat Grimes, Ray Holohan, Len Regan. Dennis Cummins (Sub)
1st place Ireland
2nd place Great Britain
3rd South Africa
Smallbore Champions :
Irish National winning team : Ray Holohan, Jeff Kehoe, Daniel O'Flaherty, Mike Nestor, Len Regan, James Connolly (Sub)
1st place Ireland
2nd place Great Britain
3rd South Africa
Individual World Champions :
Centerfire
1st Jeff Kehoe (IRL)
2nd Gwyn Roberts (GB)
3rd Phil Wood
Smallbore
1st Ray Holohan
2nd Flippie Van Tonder
3rd Jeff James Kehoe