News
Boyle to be included in soil survey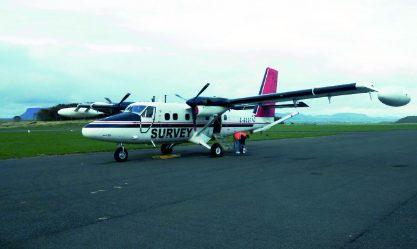 Boyle is one of the areas earmarked for a ground-based geochemical soil survey in the next number of weeks.
Conducted by the Geological Survey Ireland (GSI), the Tellus survey collects geochemical and geophysical data on rocks, soil and water across Ireland.
Locals may recall the Tellus airborne survey a few years back conducted by a low flying aircraft over Boyle (main picture).
Geological Survey Ireland (GSI) will be undertaking a ground-based geochemical soil survey across counties Galway, Roscommon and neighbouring parts of Offaly, Westmeath and Longford from May until late autumn, as part of the Tellus survey.
The soil sampling follows on from previous phases of the programme, which aims to see 50% of the country surveyed by the end of 2018.
The work is being carried by OCAE agricultural consultants, out on behalf of the GSI.
Samplers – who work in pairs and carry I.D. –  collect soil samples using a hand auger every 4 km2. Samples will be approximately 1 kg in weight and will be taken down to a maximum depth of 50 cm.
At stream sites, small bottles of water and less than 500 g of sediment will be collected.
The information collected is used to create new geological maps which can help manage and make the best use of our environmental, agricultural and natural resources.
The resulting data, once analysed, is made freely available to all.
If you have any questions about the survey, or if you are interested in finding out more about the project, you can contact the Tellus Freephone information line on 1800 303 516 or visit www.tellus.ie.