News
Boyletoday.com copyright law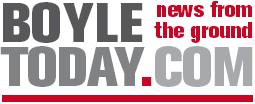 It has come to our attention that items published exclusively on boyletoday.com have been reproduced without prior permission.
All material either written or photographed on this site is covered by the Copyright Act and can not be reproduced or published in either print or electronic form without prior permission of the editor.
Any further breaches of the act in relation to boyletoday.com will be dealt with accordingly.