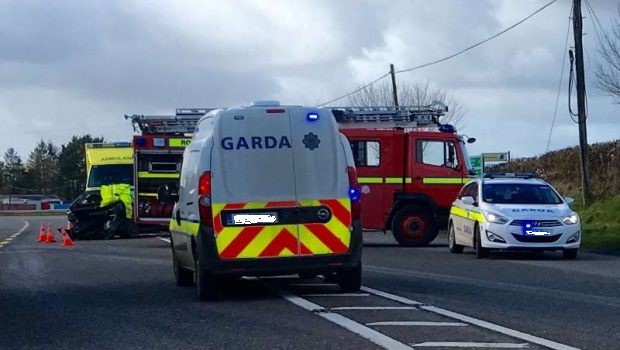 A call has been made for interim safety measures to be introduced on stretches of the N5 following another serious collision in the Tulsk area earlier this week.
 Fianna Fáil TD for Roscommon/Galway Eugene Murphy was speaking in the Dáil chamber under Topical Issues when he raised major road safety concerns on the N5.
"We know that a by-pass from Ballaghaderreen to Scramogue Cross, is being progressed but we cannot wait for the by-pass. If we do not do something in the meantime, there will be carnage. There are so many near misses and so many people have been injured. Many have been killed over the years on the route from Tarmonbarry to Ballaghaderreen. Over the past 40 years since the N5 was built, more than 30 people have lost their lives on it. If that had occurred in any other part of the country, there would be a significant outcry," said Deputy Murphy.
The Fianna Fáil TD said that people going about their everyday business in the villages and towns along the road are facing ongoing dangers.
"This issue affects parents bringing their children to school, people alighting at halls and older people going to day care centres. There has been a big increase in the population of Tarmonbarry in recent years-It is probably one of the fastest growing areas in the county. However, very few new traffic control measures have been put in place in the village. Scramogue Cross is a well-known point in County Roscommon. A regional road cuts through it and there have been several accidents there through the years. Strokestown has not been by-passed and a significant amount of business comes to the town as a result. However, there are now two major housing estates on the Tulsk road on the edge of the town. On numerous occasions in recent weeks, lorries have almost hit cars going into or coming out of those estates. People live in fear of such situations.
"In Tulsk village, a major regional road cuts through the national primary route. There was a serious accident at that junction earlier this week. There are similar issues in places such as Bellanagare village and Frenchpark," said Deputy Murphy.
"In his reply, the Minister of State referred to the by-pass and how it is progressing. It will not be in place for a significant number of years – three, four or possibly more. If something is not urgently done in the meantime, there will be loss of life. There are measures that can be taken and which will not cost the Government or Transport Infrastructure Ireland, TII, a lot of money. A measure that has worked on other parts of the route is a roadside sign on which a driver's speed flashes up. That is one of the best ways of controlling traffic and the signs are working very well across the country," said Deputy Murphy.
Deputy Murphy called for immediate contact to be made with TII with a view to establishing what can be done in the short term.
"An example of an issue that could easily be addressed is the lack of a double continuous white line on the Tulsk road in Strokestown. Many large trucks go through the town and onto that road. It is a threat to people's lives. I ask that the Minister of State, please, bring this message back to the Minister and immediately request that TII carry out an assessment of that issue without further delay," concluded Deputy Murphy.
(File Pic)