News
New co working hub & event centre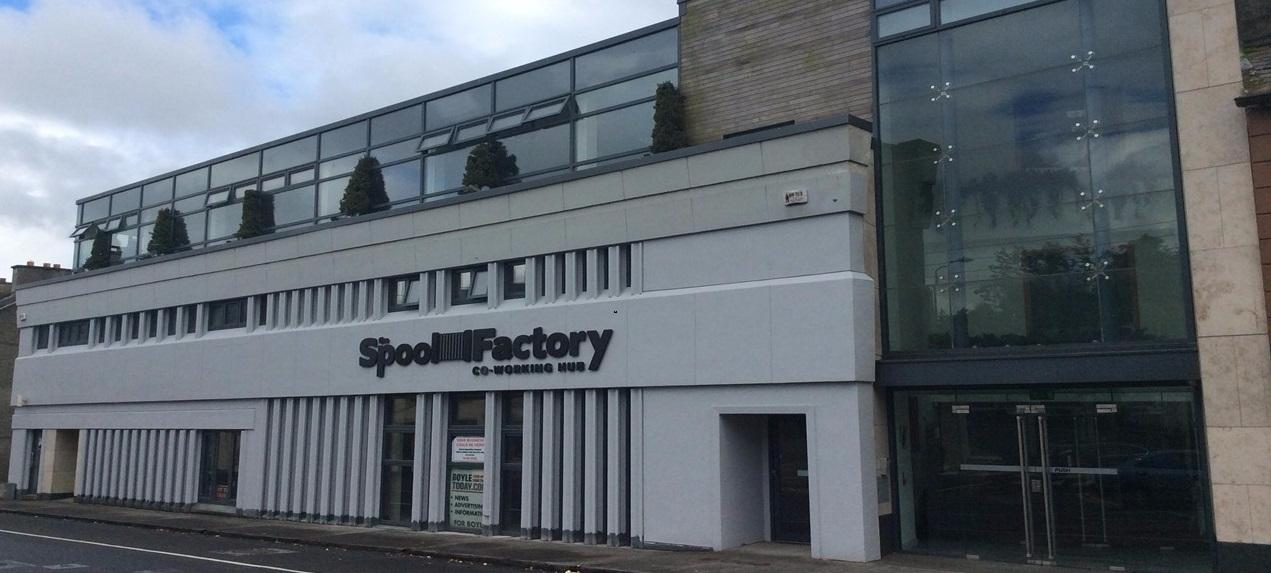 Boyle's first Co Working Hub and Event Centre – The Spool Factory – is set to officially open it's doors on St. Patrick Street in the north Roscommon town early in July.
Set out over three floors in the recently refurbished and modernised building, The Spool Factory has the potential to facilitate over 20 jobs in the long term.
The brain child of local entrepreneur Brian Nerney who was the initial promoter of Shannonside Radio, founder of Boyletoday.com and a former Newspaper CEO and proprietor, the Spool Factory offers a range of flexible co-working options designed to facilitate part time and full time entrepreneurs or those feeling the isolation of working from home.
Co Working Space
Single and multi user desks will be available for half day, full day or weekly rental.
Also on offer will be serviced office suites, meeting rooms and training facilities.
Longer term rental in this modern work space is also available for established businesses or entrepreneurs who want to be part of this exciting development and new style working atmosphere.
You will have no need to worry about maintenance charges, long term leases, heating, security, cleaning and building repairs when you locate in The Spool Factory – all this is included in your low cost rent!
With 100mb wifi broadband and on site mentoring in an informal yet productive environment all included in your fix cost rent, you are sure to enjoy being part of Boyle's most exciting new development – The Spool Factory.
Conferencing and Event Centre
Conferencing and event hosting has never been easier with Boyle's newest and brightest 100 seater conference room.
Set on the top floor of the Spool Factory, the conference room offers a bright and secure facility for business and organisations to host events.
On site facilities include 100mb wifi throughout, toilets, canteen, roof top balcony, lift access, electronic 6ft screen and state of the art audio visual equipment.
Catering can also be provided if required.
A 10 seater fully equipped, bright boardroom is also available as are smaller meeting rooms for less formal gatherings.
The Spool Factory facilities include:
* 10 hot desks for half day, daily or weekly rental in an open plan environment
* Lockers for those who want to keep their files on site.
* Longer term office suites for established or start up businesses
* 100mb broadband included in your rental price
* Free on site modern canteen with unlimited supply of tea and coffee
* Free on street or rear car park
* Access to communal spaces, roof top balcony and break out areas
* Serviced front office desk with secretarial support
* Secure key fob access
* Monitored security camera system inside and out
* Lift access
* 100 seat modern and bright conference facility with audio visual equipment and roof top balcony area and seperate kitchen.
* 10 seat boardroom and smaller meeting rooms for short term rental
Commenting on the new business, promoter Brian Nerney said : "Having been involved in established and start up businesses for over 35 years, I have a solid knowledge of the requirements of the modern day entrepreneur. In the Spool Factory, I hope to offer my experiences and knowledge, to those who locate there, free of charge."
" I am also conscious of the isolation of home working and in the Spool Factory, you will have an atmosphere of working on your own but with the backup and support that is available in larger companies."
"In addition, it is my wish to develop an informal yet productive facility where start ups are nurtured, co working is created and an environment for collaboration, networking and sharing ideas is progressed and fostered"
"Hopefully we will see a mix of start ups, established businesses and entrepreneurs with business ideas all located together under one roof in Boyle – which was recently judged Ireland's Most Enterprising Town".
"I decided to name the building the Spool Factory as research has shown that that is exactly what stood on the site over 130 years ago – a factory that made spools of thread" concluded Brian.
The Spool Factory is supported by Bank of Ireland Start Ups and will be linked in with similar co working centres throughout Ireland offering access to a wide location of hot desks and co working sites all over the country.
Co working and event space will be available by prior booking only with an online booking system due to come on stream later in the summer.
Until then, if you require further information on The Spool Factory or to book space or an event please contact:
Brian Nerney on 086 257 5032 or email [email protected]