News
County tourism brand launched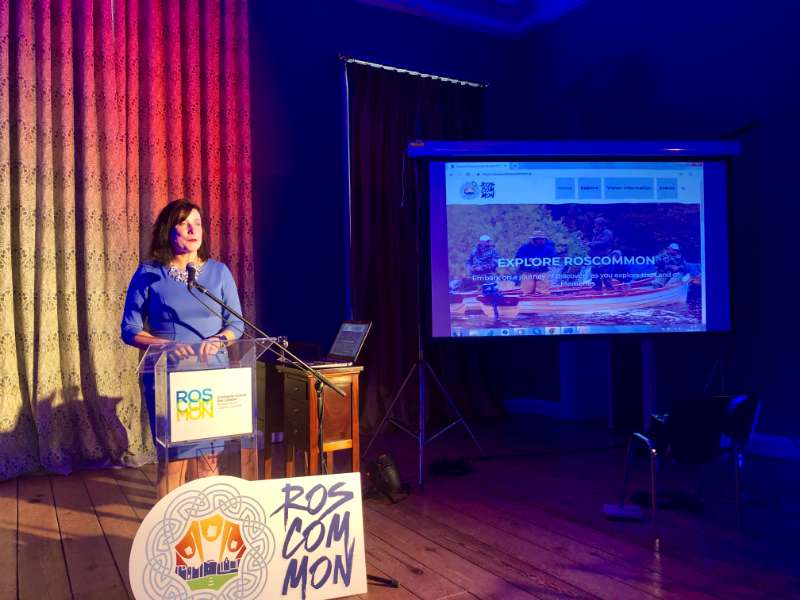 Roscommon County Council through it's Tourism Department launched a new Roscommon County Tourism Brand, Website and Brochure in Boyle on Friday evening.
The launch took place in the newly decorated King House which was the subject of favourable comment from all present.
The new brand will showcase the county to the tourist, making Roscommon a tourism destination for all to consider.
Working with Design West, the new brand for Roscommon Tourism was designed to represents the various elements of tourism within the county.
The Celtic weave symbol refers to Roscommon's rich heritage of great tribes, wealthy chieftains and dynastic families. It also represents a water element which surrounding the county, and fish jumping throughout our amazing waterways.
The centre feature acts as a portal to the memories of Roscommon – to the trials and epic landscapes of the county; the historical sites you will encounter; and the experiences, communities and welcoming warm nature of our people.
The new website visitroscommon.ie was designed by JDK Design, around the concept of the new tourism brand. It introduces the visitor to the four themed experiences to discover in Roscommon – Heritage, Water, Trails and Activities.
The website details the various activities, attractions, accommodation and eateries which Roscommon has to offer the visitor; provides you with details on planning your trip; how to get here by bus, road or rail; and gives you up to date information on the latest events which will be taking place in the county.
The new brochure details the offering of the website and also provides the visitor with a detailed map of all tourism activities available throughout the county.
Cathaoirleach of Roscommon County Council, Cllr Paschal Fitzmaurice told the gathering that "Through working together – from community, to tourism provider, to Roscommon County Council, to Failte Ireland – we can build a quality product which is appealing, accessible and memorable".
Mr. Eugene Cummins Chief Executive of Roscommon County Council in launching the new brand, website and brochure said that "This development would enable growth in the tourism sector throughout the county for the coming years". He stated that "Roscommon County Council recognise that Tourism is an important economic driver in Co. Roscommon, particularly from a rural tourism perspective; and has a compelling role to play in safeguarding and growing jobs in the local economy".
"Through the development of an easily identifiable brand and a modern easily navigated website, Roscommon county becomes a recognisable Tourism location for the tourist from both home and abroad."
For more information visit the website here or pick up a copy of Explore Roscommon in your nearest information point.
Boyletoday.com photograph shows Roscommon Tourism officer Eimear Dowd at Friday evening's launch