News
Date announced for Airport 'Runway Fun Run'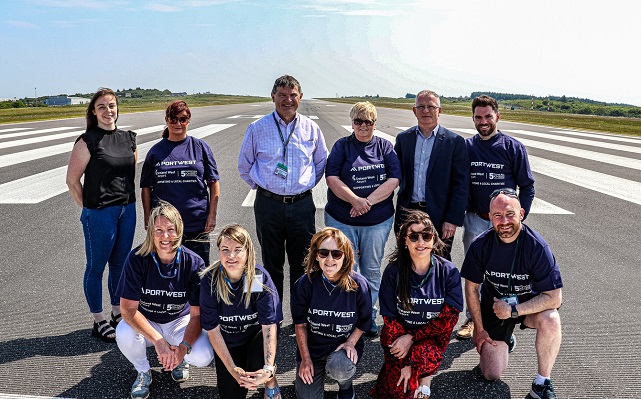 Ireland West Airport is delighted to announce, in partnership with Portwest, that our hugely popular annual 5k runway fun run will take place on the runway at Ireland West Airport on Saturday September 9th at 7pm.
Runners and walkers will take-off down the runway at 7pm and complete a 5km course with a difference. All are welcome to attend what promises to be a fantastic evening for all the family, raising much needed funds for our charity partners in 2023.
The airport charity partners for 2023 are Breakthrough Cancer Research, Diabetes Ireland, The Irish Society for the Prevention of Cruelty to Children, The Children's Cancer Fund, The Royal National Lifeboat Institution, and the Mayo Society for the Prevention of Cruelty to Animals
Entry to the event costs €20 per adult and €5 for under-16's. A special family rate of €40 will be available for families of 2 adults and 2 kids. All participants will receive a race t-shirt and complimentary car parking and refreshments at the airport will be provided on the day. Participants can sign up and find more information by visiting www.irelandwestairport.com/runwayrun. To mark the special event, all participants who register online to take part will be entered into a draw to win two return flights to London Heathrow with Aer Lingus – our newest daily service launched in March of this year. The number of participants is restricted and those interested are advised to register early to avoid disappointment. A 'Virtual option' will also be available again this year for those who wish to support the charities but are unable to make it on the day and would like to do a virtual run or walk etc.
Commenting at the launch of the annual runway fun run, Joe Gilmore, Managing Director, Ireland West Airport said "We are delighted to launch the return of our hugely popular airport runway run for the 6th year. It's always a great event which raises over €20,000 every year for our charity partners. The airport is particularly pleased this year to be extending our charity partners from three to six in recognition of the fantastic work these charities do at both a local and national level. We look forward to welcoming a big crowd to the airport on the 9th of September and look forward to a few course records being broken on the evening!
Commenting on the launch on behalf of the Runway Run sponsor, Portwest Ireland, Managing Director Rachel Davoren said, "Portwest is proud to partner with Ireland West Airport for the fifth year to support their charity 5k Runway Run. As always, we are delighted to be associated with this great event because, while helping people stay healthy, the event also ensures that each of the charities involved this year can continue to provide the amazing services they do. We would like to wish every success to each of the charities involved and to all participants taking part in September."
Pictured at the launch of the 2023 runway run are from the back left to right: Sinead Boyle, Ireland West Airport, Carmen Taheny, ISPCC, Joe Gilmore, Ireland West Airport, Marion Biesty, Mayo SPCA, Tomas Geraghty, Portwest, Denis Cronin, Portwest, Front Left to Right, Ailish Power, RNLI, Geraldine Molloy, Cancer Fund for Children, Mary Russell Mayo SPCA, Alanna O'Boyle, Diabetes Ireland, Eoghan O'Sullivan, Breakthrough Cancer.