Events
€18k Chamber cheque presented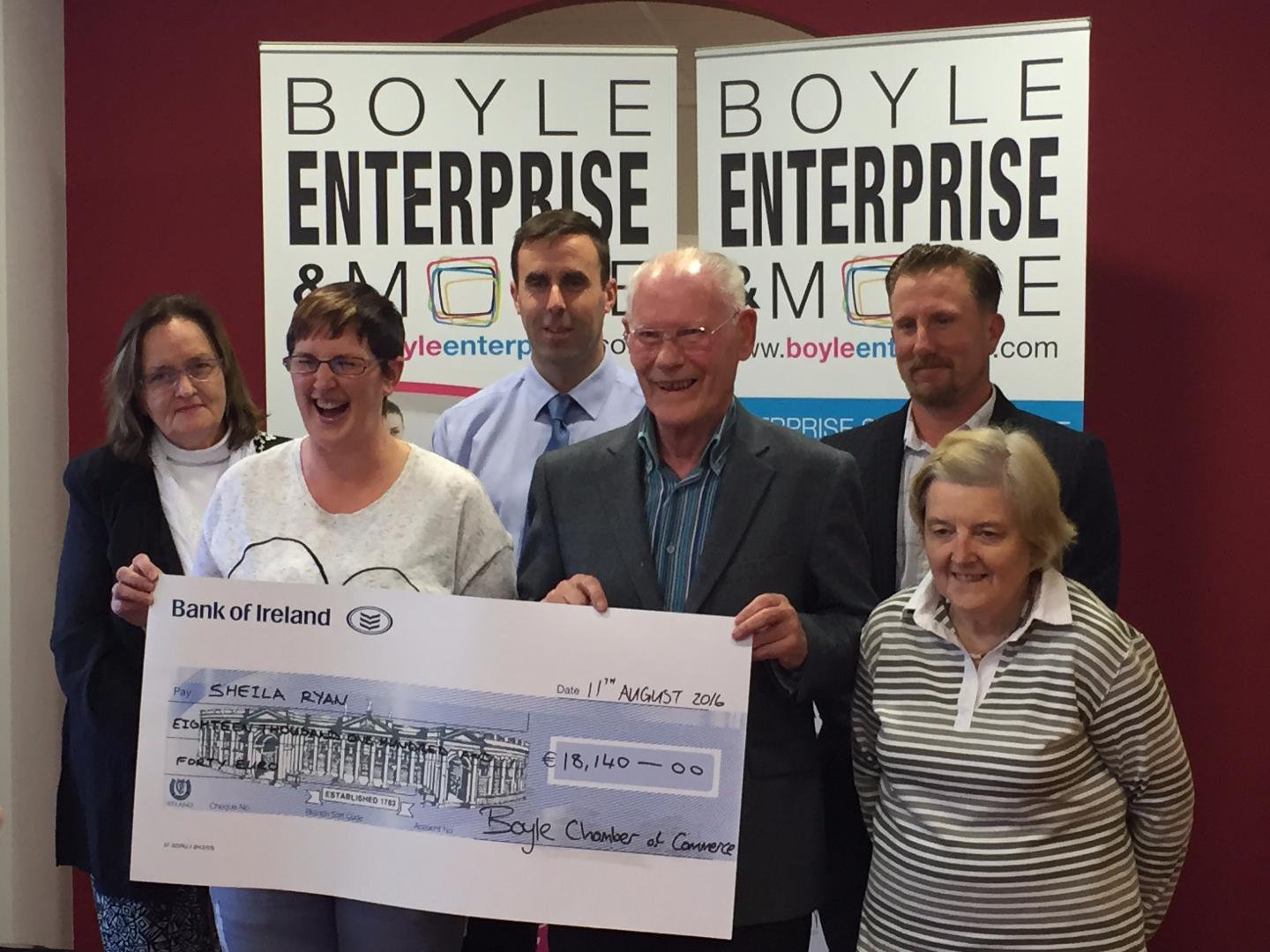 Denise Ryan and her mother Sheila were overjoyed last Monday night on hearing they had the winning numbers in the Boyle Chamber Lotto with a prize pool of €18,140.
The winning numbers were 10,14,19 & 29.
Denise moved to Boyle 9 years ago from Tipperary and has already plans made to spend her share of the lotto.
Denise buys a weekly ticket for the Boyle Chamber Lotto for as long as she can remember, and has an agreement with her mother to share any fortune they win.
Her mother Sheila buys a weekly ticket to the GAA Portroe lotto in Tipperary and likewise they agree to share that too, if their lucky numbers come up!
Denise is already planning to visit her family in Australia with her share of the winnings while Sheila is planning to invest in a new car, which will allow her more frequent trips to visit Denise and her family in Boyle.
Boyle Chamber of Commerce thank sincerely all our supporters of the Weekly Chamber Lotto. The funds raised allow us finance / support the following:
·         Boyle Town Enhancements & Floral Displays
·         Establish our Flagship Project-BOYLE Enterprise & More-currently hosting 9 New Businesses
·         Restoration of The Mill Engine
·         Lighting of Boyle Abbey & Church of Ireland
·         Railing at the Famine Graveyard, Plunett Ave.,
·         Purchase New Christmas Lights & Features for Boyle town exceeding €30,000
·         New Walls at Greatmeadow
·         The Board Walk, by Boyle River and Boyle Lawn River developments
·         Boyle Arts Festival
·         Boyle St. Patricks Day Parade
In conjunction with Boyle Town Team and The Courthouse Committee, we look forward to working together on future projects to include
Boyle/Lough Key Cycle Route
The Gate Lodge
Boyle Courthouse Project
Greater Broadband Speed for Boyle
Congratulations to Sheila & Denise Ryan(Boyle and Tipperary) the recent Winner of the biggest Chamber lotto to date who received a cheque of €18140.