News
Eco Showboat to dock at Boyle Marina and Doon Shore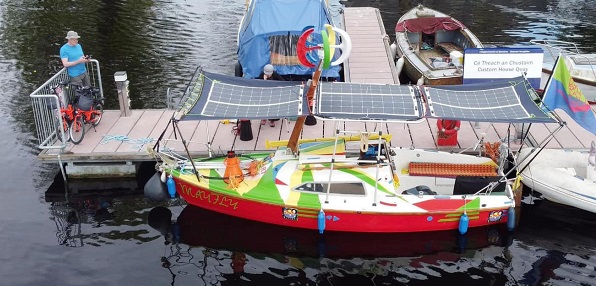 The Eco Showboat will dock in the Boyle Marina, and at Doon Shore, Lough Key on July 24th and 31st respectively.
The Eco Showboat Expedition 2022 is a four-month arts voyage from Limerick to Enniskillen aboard the Mayfly, the flagship of the Eco Showboat project, and the first solar electric boat to make this journey. The project is the brainchild of artists Anne Cleary and Denis Connolly, aka School of Looking.
The Mayfly will dock at Boyle Marina on Sunday 24th July for an afternoon of fascinating waterside events in the extraordinary Pangolin Pavilion, a pop-up shelter made from 30 striped umbrellas.
Boyle based artist and speleology fan Padraig Cunningham, joined by members of the Shannon Caver Group, will discuss his current project, Pulse of a Stone, which explores the mapping of the Shannon Cave, a snaking underground passageway that crosses under the border from County Fermanagh to County Cavan. We project a fascinating film about a speleological group using dyes to explore an underground water course further along the Erne River. Padraig will exhibit sculptural work based on the map of the Shannon Cave along with a video work made in Carrowmore caves in Geevagh.
Following Padraig Cunningham, Artist Anna Macleod is joined by biologist Dr Mary Kelly-Quinn, Tommy Earley from mount Allen Eco Farm, and musician Shahab Cooke to celebrate the mayfly on the shore of Lough Key.
Mayflies are very sensitive to water quality and temperature and as such are classed as an indicator species of the health of water bodies. During the spring, Anna worked with 5th and 6th class pupils from Cootehall National School on a series of drawings and sculptures to chart the Mayfly's contribution to biodiversity. Anna Macleod's new collaborative body of work with artist Padraig Cunningham. Ephemera looks at the life cycle of this ancient insect as a metaphor for the precariousness of existence in the Anthropocene &; as a symbol of survival and renewal.
Tommy Earley runs a 100-acre organic farm, Mountallen on the shore of Lough Allen straddling counties Leitrim and Roscommon. For many years Tommy has promoted innovative ideas to enhance the biodiversity, habitats, and environmental awareness on the family farm and in his local community. Mountallen Eco Tours Promotes Farming with Nature with a focus on ecology, biodiversity, local history, and organic farm management.
Following these events in the afternoon, the School of Looking opens your eyes to the wealth of biodiversity surrounding us with an experience in Slow Looking and projects the first scenes from Cleary and Connolly's epic River Movie.
The Eco Showboat project has received the Arts Council Open Call Award, the SFI Discover Award, and the Limerick Arts Strategic Award and is supported by Creative Ireland, Waterways Ireland, Dublin City Council, the Local Authority Waters Programme, Roscommon County Council Arts Office and local authorities and universities right across the country. (full list of partners here)
The set events for the Boyle Marina
2.30 PM PULSE OF A STONE
Waterside conversation with artist Padraig Cunningham and the Shannon Caver Group Exhibition
3.30 PM ARNEY CATCHMENT DYE TRACING DEMONSTRATION
Screening
4 PM WATERSCAPES AND WATERLINES
Poetry reading by Mary Turley-McGrath
ALL AFTERNOON SLOW LOOKING
A School of Looking Workshop
5 PM RIVER MOVIE
FIRST SCENES Screening.
All events before 5 pm can be booked through Eventbrite
The set events for Doon Shore, Lough Key
2.30 PM LIVE FOR A DAY / EPHEMERA / MAYFLY
Waterside conversation with artist Anna Macleod and Padraig Cunningham exhibition
3.15 PM The Mayfly and Other Aquatic Insects as Indicators of Water Quality
Waterside conversation & demonstration with biologist Dr Mary Kelly-Quinn
4 PM SHAHAB COOHE
Waterside Concert
ALL AFTERNOON SLOW LOOKING
A School of Looking Workshop
5 PM RIVER MOVIE
FIRST SCENES Screening.
All events before 5 pm can be booked through Eventbrite (The Events are free)