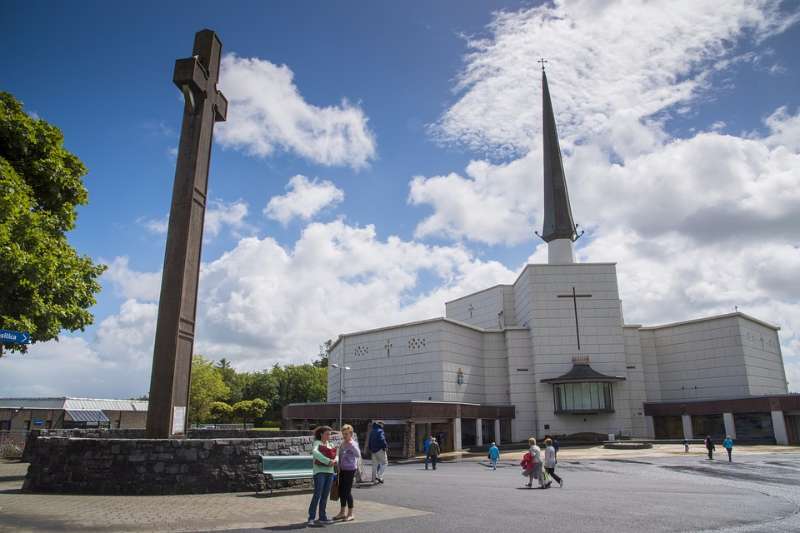 Every year for 138 years (since 1879) women and men of various parishes of the Elphin diocese have walked to the National Shrine of Our Lady of Knock, Co. Mayo.
Some have been inspired by spiritual motives such as giving praise and thanks to God. Others have walked in a spirit of penance and petition, eager to invoke Our Lady's intercession for a loved one or a situation in need of divine help. For others it has simply been the joy of a fresh challenge, a fun means of losing weight and / or the prospect of enjoying the company of friends and new acquaintances as one walks along the road.
If you are  in good health and have never tried it, now is your opportunity!  Perhaps you could walk a section of it, if the whole walk seems too much?
Pilgrim Walk (Provisional) Details
06.40 am:  Pilgrims gather at St. Patrick's Church, Castlerea
and register in Church porch.
06.50 am:  Morning Prayer Service.
07.00 am:  Stage 1 (c. 10 km)
St. Patrick's Church to Ballinlough.
08.45 am:  Rest break & registration for persons joining walk in Ballinlough.
Tea, coffee & biscuits will be served.
09.05 am:  Stage 2 (c. 9 km)
Ballinlough to St. Patrick's Parochial Hall (opposite St. Patrick's Church),
Ballyhaunis, Co. Mayo.
11.15 am:    Rest break & registration for persons joining walk in Ballyhaunis.
Tea, coffee & biscuits will be served.
11.40 am:    Stage 3 (c.11 km)
St. Patrick's Parochial Hall to Knock Shrine.
01.30 pm:   Walkers arrive at Apparition Chapel, Knock Shrine.
Costs
A voluntary contribution of €10 per participant (from those who can afford it) will be sought at registration to meet related costs.  These costs include a contribution to Roscommon Civil Defence who will accompany the walk, tea, coffee etc. in Ballinlough and Ballyhaunis and the loan of High Vis Vests for  those who do not have them.
An additional charge of €8.00 applies for all who wish to avail of a return bus service  to Castlerea.  This must be paid at  registration.  See below for details.

Other Important Information (please read)
High Vis Vests are required and will be available to borrow or purchase at registration.  … Please bring one if you have one.
Participants under eighteen years of age must be accompanied by an adult willing to take  responsibility for  them.
All participants must sign a declaration that they are in good health and are willing to take responsibility for their own safety / not hold the Diocese of Elphin responsible in the event of an accident etc..
Appropriate footwear and rain-gear are strongly advised.
Food etc. may be purchased from shops in Ballyhaunis & Knock.   Participants who require  food other  than the drinks and biscuits that will be  provided before 10.30 am are advised to bring it with them as shops in Castlerea and Ballinlough will not be open when we pass through.
Pilgrim walkers (18 years and over) who wish to join at Ballinlough or Ballyhaunis are welcome to do so. Prior to joining they will need to register (see above) and put on a High Vis Vest (which can be purchased or borrowed).
Return Bus
Participants who wish to avail of the return bus are asked to get in touch with Justin Harkin (mobile: 087 6171526) on or before Thursday Aug. 17th.
This is the only way we can ensure adequate provision for those who wish to avail of this service.
Only those who get in touch with Justin before or on Thursday August 17th can be guaranteed seats on the bus.
Other Enquiries
Please contact Justin  on 087 6171526.