News
Filming takes place in Boyle for 'Moving West'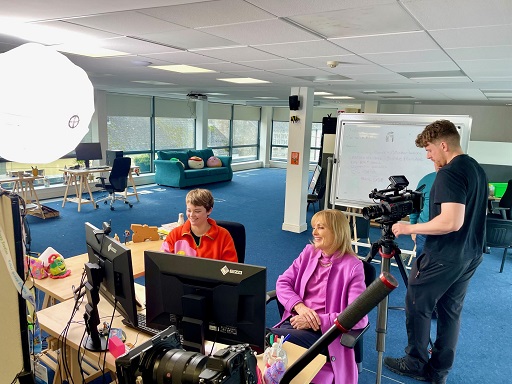 Boyle was the location for three days of filming this week, when Dundara Television and Media came to town to shoot the Roscommon segment for Series 3 of the popular TG4 programme 'Moving West'.
On Wednesday the film crew along with presenter Mary Kennedy visited Nordson Medical in Boyle where they spoke with Commodity Manager and Town Team Chairman Ciaran Sheerin about all that has happened and is happening in Boyle town.
On Thursday they moved to the Spool Factory where they interviewed staff in award winning animation company Studio Meala including Ruth Harbison and Eilish Holohan who moved to Boyle from Greystones in Co Wicklow earlier this year. Both spoke on how they have fallen in love with Boyle and plan to stay here as long as they can. They also outlined how the low cost of accommodation in Boyle versus the high cost in Dublin was one of the main reasons for moving to the town. They also spoke of the friendless of the people, the beauty of the area and the feeling of safeness when they go for a walk at night. The only downside the ladies see to living in Boyle is lack of public transportation. They suggested that some form of public transport link is needed to Sligo, especially for people who may want to enjoy the night time economy in the city and also additional late night taxis in Boyle would be welcomed.
The crew then moved through the Spool Factory visiting and filming the Co Working Hub, the Office Suites and Rooms and also the Fitt Factory Fitness Centre.
After lunch in Lovage at the Gate Lodge, the film crew and Mary Kennedy moved to Arigna to shoot another segment for the programme.
This morning (Friday) they are back again in Boyle, this time to interview Aine Cosgrove who along with her husband Conan and two children have moved from Brussels to Boyle town centre, renovating Conon's grandparents origional home place where they now live.
The Roscommon programme in the 'Moving West' series was made possible with the assistance of Roscommon Co Co and the Western Development Commission and will be broadcast in Spring 2024.
Moving West, is a six part series showcasing Life in the West of Ireland and first aired on TG4 in 2021.
It shows the public the possibilities if they decide the West of Ireland is the right place for their next move. Shot against the back drop of the unique natural beauty and culture of the West of Ireland, over the course of six half hour episodes, it follow the lives of people who have moved or are in the process of moving. The series shines a light on all the West of Ireland has to offer in terms of lifestyle, outdoor amenities, food culture and quality of life.
You can see past shows here