News
Enterprise Town meeting held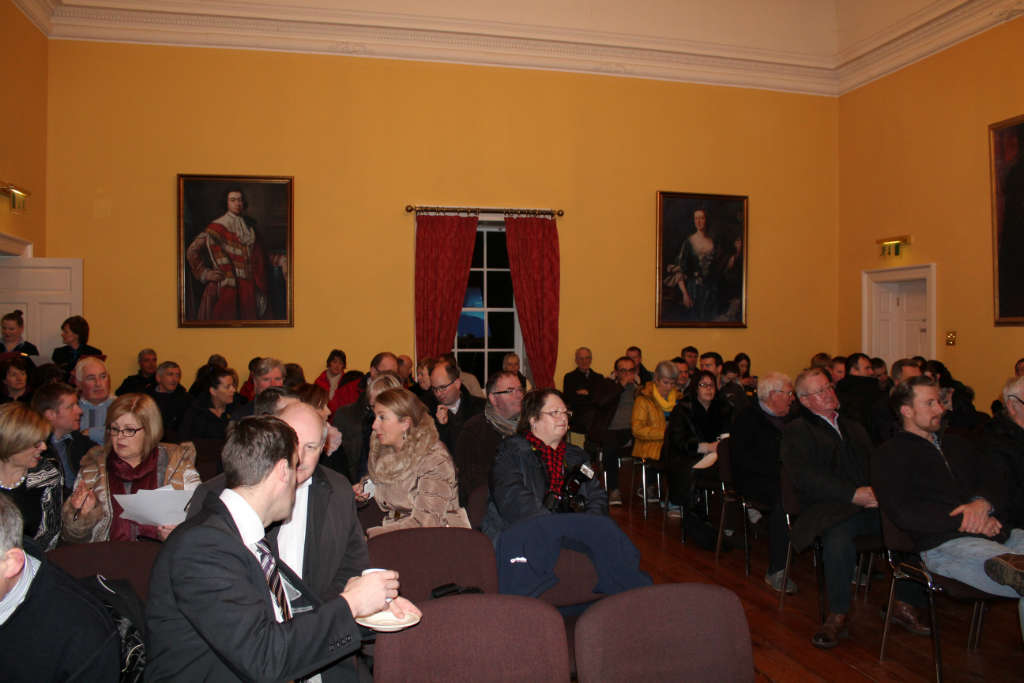 The main saloon of King House was full Monday night to hear representatives from Bank of Ireland and previous enterprise towns outline how Boyle will benefit from its selection as the first Enterprise town in Ireland for 2015.
Branch manager Gerry Whelehan welcomed the large numbers in attendance.
He said the can do attitude that prevails in Boyle was one of the reasons for the towns selection.
He citied the  Lough Key Shuttle Bus (sponsored by Boyletoday.com), the new Christmas lights, Christmas Markets, Moone Boy and most recently the appearance of Paul Young on the Late Late show and the 100 registrations for Coder Dojo as examples of what Boyle can do and has to offer.
Gerry said the Enterprise Town would have 3 pillars – Business, Sports and Schools.
A committee is in place and new members are most welcome to join.
The format that is envisaged is that the businesses in town would showcase on Friday evening 27th February in the Sports Complex and the sports, social and community groups would showcase in King House on Saturday 28th.
Guest speakers would attend and there may be some workshops incorporated.
Michael Savage, a business man from Granard outlined the benefit the weekend was to his town and said before it took place businesses were working individually. Following the weekend he could see people and businesses becoming engaged with each other with a sense of pride in the town.
Niall Flanagan, area manager Bank of Ireland said the event had been very positive for the other towns. The key to success was the committee getting the right structure in place to make it a success. This is not driven by Bank of Ireland but by the town and the committee.
A question and answer session followed with attendees asking
* Would there be a fashion show
* Who chooses the speakers
* How will it be marketed
*  Will there be a promotional video made
* Could the date be changed
* Could the opening hours be changed
* Could the venues be changed
Reference was made on many occasions to the previous expo that took place a number of years ago and the need to have this one as successful if not better.
Gerry Whelehan again stated that there would be no cost involved for those participating and that Bank of Ireland would fund the events.
He hoped there would be a legacy after the weekend and that the committee would continue to help build on what will hopefully be achieved.
He also had comfort by the success and model of the other towns and was confident the same would work for Boyle.
The committee will meet tomorrow and each week until the event.