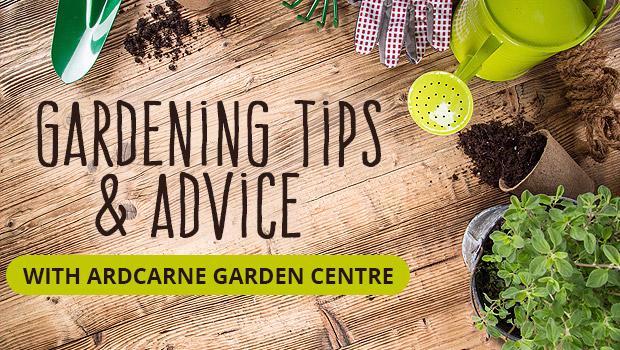 Welcome to "Gardening Tips and Advice" on Boyletoday.com, the official Ardcarne Garden Centre gardening column. Every Wednesday, the experts in your local Ardcarne Garden Centre will provide relevant and topical items of interest exclusively here on Boyletoday.com to help you get the best from your garden.
Great to do now…
Job of the week: Sow Sunflower Seeds
Sunflowers are just so happy – looking flowers and they are really easy to grow. Children love them too, especially growing one of the giant varieties! But we have lots of other varieties here at Ardcarne Garden Centre some come down and pick out your favourites> Tip: Sow seeds to a 10cm pot, water, place on the window sill indoors and plant out once they have four or five good strong leaves.
Flowers:
Sow annual climbers like morning glory and canary creeper
Plant summer flowering bulbs such as dahlias, gladioli and lillies
Prune out frost damaged growth from shrubs
Fruit & Veg:
Look out for aphid on plant stems and blast off with a jet of water
Earth up early potatoes as soon as the shoots come through
Harvest forced rhubarb when they reach the top of the forcing jar
Greenhouse
Prick out hardy annuals once they have their first true leaves
Plant up hangingg baskets and grow on under cover til after the last frost or cover with a horticultural fleece on chilly nights.
Hang sticky traps among greenhouse plants to control whitefly
Around the garden
Thicken up sparse lawns by racking and then seeding over bare patches with Gro Sure fast acting lawn seed
Put in plant supports early  – they will soon be hidden
How beds regulary to keep down weeds
Focus on…..Summer Containers
Showy summer pots brimming over with colour always make a great welcome by a home and planting your own is simple and fun. At Ardcarne Garden Centre you can choose from a huge choice of plants and ornamental pots to create something that will perfectly suit your style and budget. Here are some tips to get the most from your summer containers.
Colour theme or glorious riot?
There's nothing wrong with a riot of mixed colours, but a good colour theme will instantly give your containers more impact. Remember, pots have a colour too and can help reinforce your theme.
 Keeping it in proportion
Height is very important when choosing plants as large pots will look flat and boring unless you choose at least one relatively tall specimen. Shrubs with an architectural shape such as a cordyline or phormium works well, or you could use a Bay tree or Box plant, which have been clipped into a pyramid or lollipop shape. Standard fuchsias and Marguerite daisies are also superb centre pieces for pots and flower all through the summer.
 Supporting Roles
Once you've chosen the main plant for your pot, smaller plants can now be selected for creating the next layer. Again these can enhance your colour theme. Most bedding plants are in flower when you buy them so it's easy to mix and match. Remember to include some trailing plants for tumbling over the edge such as Petunias, Trailing Begonias and Ivy-leaved Geraniums. You can also put in some trailing foliage plants such as Helichrysum and Nepeta, to enhance the overall display.
 Planting
This is the fun part, but there are some things to remember before you start to plant. Firstly, always choose a good quality compost. For summer containers we recommend Plantsplus Professional Multi-Purpose or Westland Container & Basket compost which has a special water-retaining ingredient added that prevents the compost drying out too quickly in dry spells. Of course all pots should have a drainage hole to allow excess water to drain away too! Fill the pot with compost and position the plants on top so you can play around with the design before planting.
 Aftercare
Watering containers is vital in the summer to keep your plants flushed with flowers. Even allowing containers or baskets to dry out once may set them back for the whole summer. Watering in the cooler part of the day (mornings or evenings) is best as it allows your plants time to soak up the water.
Feeding
Although there is some plant food in compost it really is beneficial to feed your plants to keep them healthy and flowering. About once every week add some liquid feed such as Tomato Food.
 Dead-heading
A few minutes spent dead-heading old blooms every couple of days will also keep your containers in pristine condition and encourage them to produce even more flushes of blooms throughout the summer.
Frost Protection
Have some Horticultural Fleece ready to protect young bedding plants from any late frosts. Of course you could also bring the container inside on a cold night.
 For more information contact:
Ardcarne Garden Centre
Boyle, Tel: 07196 67091
Roscommon Town: Tel: 09066 27700
Email: [email protected]
Open 7 days