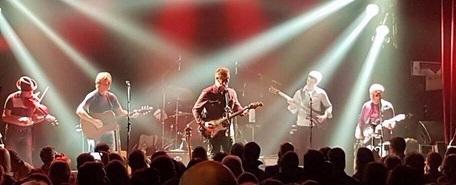 An entertaining night lies ahead on Tuesday July 25th when Goats Don't Shave play Daly's Storehouse during Boyle Arts Festival.
Goats Don't Shave formed in the early 1990s in Dungloe, County Donegal.
The group released six albums together, The Rusty Razor, Out in the Open, Tor, Songs from Earth, The Collection.
They are probably most well known for their songs "Let the World Keep on Turning" and "Las Vegas (In the Hills of Donegal)", both taken from their debut album The Rusty Razor.
The Goats sold out concert venues the length and breadth of the UK, Ireland, Europe and North America.
They have played both Glastonbury and Finsbury Park Fleadh whilst also being voted Best Band of 1993 by Time Out magazine.
Due to popular demand, the Goats decided to reform in 2012 and this year sees the Goats Don't Shave back with a brand new album, 'Turf Man Blues'.
This dynamic band can move you to laughter or to tears and their performances are renowned for their infectious good humour.
Expect humorous anecdotes, brilliant musicianship and strong voices whether in soft, poignant, tear-jerking ballads or fast, let-it-all-hang-out rhythms.
Tickets available through Eventbrite here