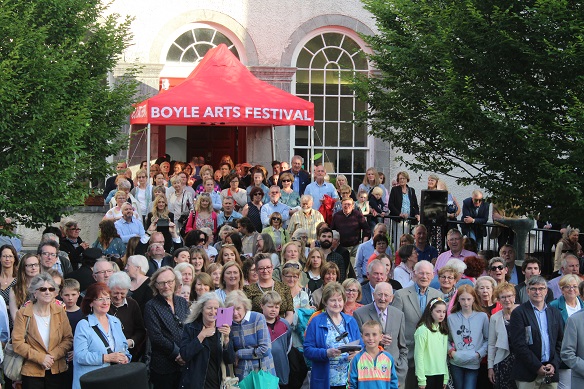 It goes without saying that the last two years have been difficult for many people and businesses. Thankfully we are returning to some kind of normal and Boyle Arts Festival are delighted to return as promised, on the 14th of July with a full Festival programme. Headline events can be viewed at www.boylearts.com. and tickets can be purchased and are already selling quickly.
Last year we were very lucky to have received support from The Arts Council, which allowed us to run a restricted Festival, without having to seek sponsorship locally; however, this year the success of the Festival will, as always, be dependent on local financial support in the form of sponsorship and donations.
It was felt as a Committee that the GoFundMe option makes it a simpler process for people to donate and we hope that you will consider contributing to this fundraising effort as you have in the past, to help make the 10 day Festival one to remember.
Here is the link to the GoFundMe page.
https://www.gofundme.com/f/boyle-arts-festival-2022
As usual there are categories of sponsorship for which we offer advertising and exposure in our programme and at the events. For information on these please contact any of the committee members or leave a message on this page and we will gladly contact you. The latest date for receipt of donations for inclusion in our programme is 7th June.
If for any reason you are unable to donate on this page, you may contribute as usual to any of our Committee members and it will be fully acknowledged.
Thanking you for your continued support.
The Boyle Arts festival Committee.