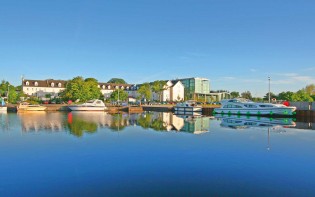 A report on independent.ie this morning states that the Hodson Bay hotel group, which includes the hotel of the same name in South Roscommon, last year increased operating profits by 5pc to €3.1m.
According to the article: The group is controlled by the O'Sullivan family and is made up of the four-star Hodson Bay hotel outside Athlone; the four-star Sheraton hotel in Athlone town centre and the four-star Galway Bay hotel.
The increase in profits followed revenues at the group increasing marginally from €30.47m to €30.98m in the 12 months to the end of February 2018. The group increased its pre-tax profits marginally, from €1.93m to €2m. This group achieved the profit after paying loan interest of €1.17m.
This year will signal the group's entrance into the booming hotel market in Dublin, where in May it intends to open its 234-bedroom Hyatt hotel at the Coombe.
Read the independent.ie article in full here
(Pic via Hodson Bay Hotel website)