News
'How To Strengthen Family Relationships During Restrictions'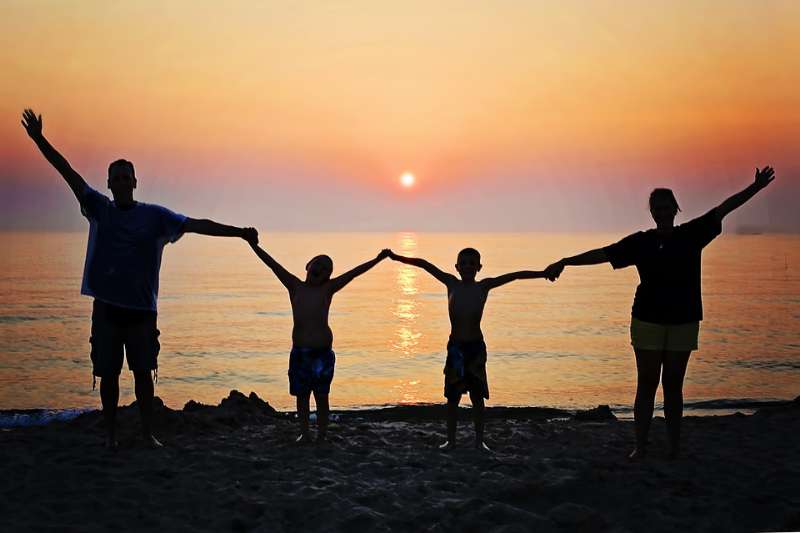 Over the next few weeks the HSE Psychology services for Galway, Mayo and Roscommon will be streamlining some key information for Boyletoday.com viewers based on the evidence of what works in similar circumstances.  Our themes will be around building resilience, coping with cocooning, managing relationships, caring for those with disabilities and other vulnerabilities and sharing supports for those who are ill or bereaved.  This week our theme is 'How To Strengthen Family Relationships During Ongoing Restrictions'.
The way we interact with one another may create challenges in family life, particularly at this time of change and uncertainty for children, teenagers, parents and couples alike. By becoming more aware of and working on how we relate to each other, we can strengthen family relationships.
HSE Psychology colleagues Malie Coyne, Orla Richardson, Leigh McCann, Maria Dillon, and Andrea Browne have put together information to help viewers with family relationships, common emotions, how to support family members, and available supports.
Common emotions for family members
Parents may be feeling many emotions whilst balancing various demands. Managing the natural underlying anxiety they feel related to the pandemic with other demands (e.g., financial strains, employment loss, working from home, front-line work, grief, illness, caring for others, household chores, childcare, or home-schooling) presents challenges, which may result in a feeling of overload.
Children have an antenna for their parents' feelings, which in turn influences the child's own emotional response. Younger children may be feeling anxious about the virus and may not understand why they can't take part in their usual activities (e.g., school, seeing friends or grandparents). They may detect their parents' stress and anxiety and express this through heightened emotions such as anger and fear, and their behaviour may swing from being challenging to withdrawing or seeking reassurance.
For teenagers, peer relationships are an essential part of their development, so it is natural that they would be struggling with the ongoing social and recreational restrictions. This may have affected many important 'rite of passage' aspects of their lives (e.g., sitting Leaving or Junior Cert exams, heading off to Irish college, attending their debs, holidays with friends, graduating from school).
For couples living together, more time in close proximity may be a welcome change but for some this may lead to increased conflict and tension. Couples who are living apart may also experience struggles. 
Parents who have separated or divorced, parents who are parenting on their own, and those caring for loved ones with disabilities or illnesses, will also be facing their own challenges. 
All of these heightened emotions can put a strain on family relationships and make home life more challenging.
How can parents nurture themselves?
Remember, you cannot pour from an empty cup. In order to support your family, you need to feel nurtured yourself. Where possible, try to take some time out for yourself during the week. This may be challenging at this time but even a walk outside, prioritising quality sleep, relaxing with a cup of tea or taking a few, deep slow breaths can help! Be kind to yourself and reach out for support.
How can you support your child or teenager?
Meeting basic needs (e.g., routine, good sleep and exercise) will help children and teenagers feel more balanced. The quality of your relationship is also key:
Focus on the feeling: Sometimes children feel overwhelmed by their feelings and are unable to put them into words. They need a parent to help them organise their feelings, e.g., 'I can see you're really sad about not being able to see Grandad'. Labelling their feelings will help them to feel understood.
Problem-solving: Once the child feels understood and validated, redirection works well if they are not too upset, e.g., 'Why don't we write Grandad a letter?'
Connection before correction: If your child is very upset, simply 'connect' with them using soothing words or offering them a hug. Later, you can 'correct' when they are feeling calm again, e.g., 'I know you were feeling really angry earlier; it's okay to feel angry but we don't hit in this house. I am wondering what we can do the next time you feel angry?' Come up with solutions together.
Take time to listen and empathise (especially for teenagers): Actively listen to your teen and let them know that you understand how difficult it is for them, e.g., 'I know it's really hard for you not being able to see your friends, I really get that. I'm wondering is there anything I could do to help?' Create a space where they can talk about their worries and frustrations.
'Special Time': Spending quality time with your child or teen will really help strengthen your relationship (e.g., playing one to one for a period of uninterrupted time with your child; shared enjoyment with your teen, etc.).  
How can you support your couple relationship?
It's normal when faced with stresses, especially those outside your control, to direct those feelings of frustration towards your nearest and dearest, especially a partner. The key to healthy communication is to listen to your partner with respect, try to understand their perspective, have compassion for yourself and one another, and then try your best to let less important issues go.
While couples may be spending a lot of time together there may be an absence of quality time, so it is important to try to create healthy boundaries, routines, and rituals to help nurture yourself and your relationship. Explore opportunities for increasing connection, intimacy, and fun. Take time apart when needed.
For couples who are living apart, respectful listening, communication and compassion are key. This approach also applies to parents who have separated or divorced, as it will help them to co-parent in a way which supports their children's emotional development.
Parenting on your own
For those parenting on their own, the current restrictions can be even more difficult. Acknowledging your strengths and accepting that you are doing the best you can is really important. Be compassionate with yourself, try not to judge yourself too harshly, but do take action and seek emotional and practical support if parenting alone is becoming too challenging for you. Family or friends may be more available than you imagine, but if not, consider some of the supports listed below. They are there for you!
Repairing relationships
Remember, conflict happens in all relationships and is a normal part of family life. Repairing the disagreement provides a valuable opportunity to strengthen your relationship. When arguments happen, take some time out to yourself – it can take 90 minutes after a serious falling out to settle your system! Try a few slow, deep breaths. Only when both of you are feeling calm again and willing to talk, share your views with each other, but without blame. Take responsibility for your part, and talk about new ways of managing in the future.
The goal for all relationships is to seek to understand each other better – you can still 'agree to disagree'. Remember, we can all be struggling at times – so take it easy on yourself and others.
Useful contacts:
Galway Specific
www.phg.ie

 – 

Parent Hub Galway – Parenting Directory

Ard Family Resource Centre Doughiska 091 768 852

Clann Family Resource Centre Oughterard 091 557 633

Gort Family Resource Centre 091 630 902

Loughrea Family Resource Centre 091 871 149 / 086 344 9950

Solas Family Resource Centre Headford 093 36446 
Mayo Specific
www.mindspacemayo.ie

 – MindSpace Mayo 094 906 7001

www.thefamilycentre.com

 – The Family Centre Castlebar 094 9025900

Cúram Family Centre Claremorris 094 936 2096

Family Focus Mayo 094 902 5211

Family Resource Centres in Mayo
1.       Ballina FRC, 096 75573
2.       Cairdeas FRC, Kilmovee 094 9649814
3.       Le Cheile FRC Castlebar 094 9025126
4.       Claremorris FRC 094 9377838
5.       Ballyhaunis FRC 094 9630031
6.       Tacu FRC Balinrobe 094 954 2908
7.       Westport FRC 098 24419
Roscommon Specific
Roscommon Parenting Hub Facebook page 087 621 4456

www.boylefrc.ie

  – Boyle Family Resource Centre 071 966 3000

Ballaghadreen Family Resource Centre Facebook page 094 986 0767

South Roscommon Family Resource Centre Facebook page 090 662 5898

Castlerea Family Resource Centre Facebook page 086 461 5537