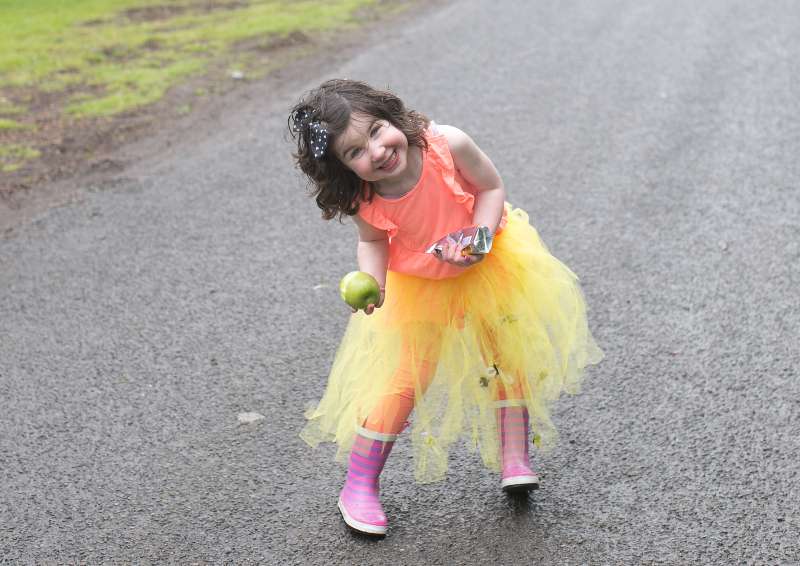 The final farewell festival for IzzyB's Away with the Fairies will take place on June 9th and 10th, 2018 and the two day event will feature a magical children's parade, street party, live music and fireworks as well as the fairy and pirate day in Strokestown Park House.
This is the fifth and final year of the event which was initiated by the family and friends of Childhood Cancer Survivor, Isobel (Izzy) Cullinan from Strokestown.
Last year approximately 3,000 adults and children attended IzzyB's Fairy Day to participate in the magical world of fairies and pirates. In so doing it helped to create awareness and raise much needed funds for Childhood Cancer Foundation whom work closely with St John's Ward at Our Lady's Children's Hospital Crumlin. It also helped to continue the fantastic work they are doing to help children and families battling this dreadful disease.
Over the past four years Fairy Day has raised in excess of €72,000 to support projects and services for children fighting cancer around Ireland.
'Izzy' is a daughter of Laura O' Rourke Cullinan and John Cullinan, a former County Meath footballer. Isobel is now cancer free and she started  primary school last September.
"The inspiration for fairy day is my daughter Isobel Cullinan, who was diagnosed with a Wilms Tumour in February 2014 which is a form of Kidney Cancer, at 21 months old. She was successfully treated however, unfortunately a year to the day of her last treatment, on the 12th of May 2015, Isobel relapsed with 2 tumours on her left lung. After a lengthy battle she is now currently cancer free and will complete her first year of primary school this June. This will coincide with the completion of Fairy day and the next chapter of my little hero's life," said Mum Laura.
Laura explained why 2018 will be the final farewell festival: "We are so grateful to everyone for supporting Fairy Day over the past four years and for all the help in raising such a fantastic amount of money for children fighting cancer. However Isobel is six years of age now and we don't want her to be defined by her diagnosis, she needs to be able to grow up away from the limelight of Fairy Day – she has spent so much of her life already in a clinical environment, in and out of hospitals, undergoing treatments and all the time being such a brave little girl. But she needs to move on now- she needs to be allowed to grow up with the same level of anonymity most children enjoy, being able to just spend time laughing with her friends or family and we sincerely hope that people understand and accept that," explained Laura.
Although Isobel is currently cancer free it is unfortunately not the end of hospital visits for the County Roscommon girl as she still requires regular check-ups, monitoring and further analysis to determine how exactly the cancer diagnosis has affected her development.
Childhood cancer survivors can face a range of possible long-term side effects.
"Unfortunately, we don't know the long term effects of childhood cancer or what the future holds for Isobel- the best way I can describe it is that you constantly live with the threat, however we must learn to live with this and protect our girls." said Laura.
The Fairy Farewell Festival Events begin Saturday, June 9th from 8pm will see a street party on Bawn St., Strokestown, with live music from Riptide Movement singer Malachy Tuohy, new up and coming Irish Band – State Lights, Aimee Fitzpatrick of the Voice UK 2018, Katie Gallagher, US artist Jared Dylan and Psylo Celestial (lead singer is local girl Siofra Jordan).
We will have fun and frolics for all the family. There will be an opportunity of dunking some well-known locals in the Dunk Tank!
We will have a magical children's parade, which will open the event on the Saturday evening, and we will close the evening festivities with a firework display over the Strokestown night sky.
Admission is free, donations of the night are welcome, however to ensure the event is as enjoyable as possible, we are asking members of the public to register for their free tickets on Eventbrite.
Sunday the 10th of June will be the final IzzyB's Away with the Fairies, Pirate and Fairy party in Strokestown Park House' woodland and gardens.  Activities include fairy cake making, tales for Fairy and Pirate duals with the Irish Fairy Door Company, appearances from Star Wars friends Emerald Garrison, performances from Youth Ballet West, Art and Crafts and lots more fun.
Entry for this fantastic event is just €10 for children, €35 for a family of 4 or more and adults and under 2's are free. Tickets are available to pre-book on Eventbrite.
Or alternatively you can pay on the day at the gate.
Fairy Day, is a wonderful community event which last year attracted people from the local community and surrounding counties of Leitrim, Longford, Westmeath, Sligo, Mayo, Galway and further afield, i.e. Donegal, Dublin, Meath , Louth , Cork & Kerry etc.
Over the past four years organisers have transformed Strokestown Park House' woodland walk into a magical Fairy & Pirate playground. Even though 2018 is the final Fairy Day event Laura explained that the various fairy structures will remain part of the woodland walk for people to enjoy.
"We installed IzzyB's Fairy Tree, a Dodie box, Tooth fairy tree, Wishing tree, Worry Tree, a Pirate ship and a Troll bridge, along with fairy villages to the woodland walk. These structures are left in the woods for the community to enjoy after Fairy Day free of charge and each year we will continue to add new features. The woodlands in Strokestown Park are free to the public and the Fairy woods is a wonderful addition for everyone to enjoy," said Laura.
Proceeds of last year's Fairy Day assisted Childhood Cancer Foundation's Shared Care Project, is funding cardiac monitors, chair bed's, T.V.'s, wall art and game consoles, games and DVD's in the Oncology/Hematology isolation rooms in the Paediatric unit in Mullingar Regional Hospital.
All proceeds from this year's IzzyB's Away with the Fairies Farewell Festival will be in aid of:
Childhood Cancer Foundation to continue to assist funding the improvement of services, supports and facilities for children with cancer and their families, who are attending the 16 shared care hospitals countrywide;

The Sick Children's Fund to assist funding of practical supports for families affect by illness in the local Roscommon community.

Local Strokestown community-based children's organisations, dedicated to enhancing the lives of children.
For more information on event visit www.facebook.com/izzybsawaywiththefairiesfunday
For more information on our chosen charity visit www.childhoodcancer.ie