Events
John and Maggie settle out of court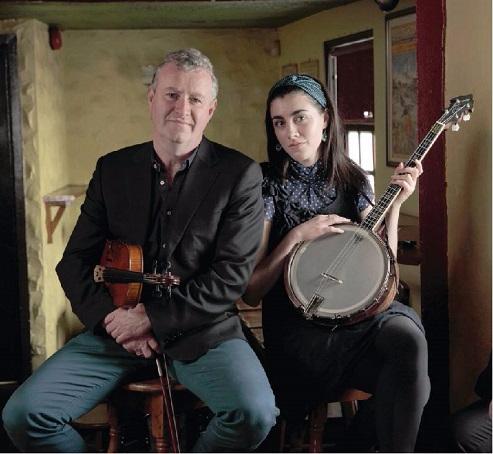 Well known Boyle musician John Carty and his daughter Maggie have released a duet album with the rather catchy title of Settle Out of Court.
The album will be launched in the pair's home town of Boyle at Whistlers Bar and Grill on Thursday 16th March.
Local singer songwriter Donal O'Connor will officially launch the CD and proceedings will start at 9.00pm upstairs in the venue.
Everyone is invited to attend the launch which will be followed by a music session downstairs so all musicians most particularly welcome!
Fresh from his recent involvement with the Oscar nominated 'Brooklyn' where he arranged the music and appeared, John Carty is one of the finest names in Irish traditional music and is well known world wide.
Settle out of Court, however, is all about the next generation of Carty's, and daughter Maggie confidently steps into the spotlight on both banjo and vocals.
Accompaniment on the album is provided by Shane McGowan on guitar, Dónal Lunny on bouzouki, guitar and bodhrán and Paul Gurney on bass.
The fourteen tracks feature a mixture of waltzes, reels, jigs and slides, with the inclusion of a number of songs that showcase Maggie's unique voice.
Her rendition of Lough Erne's Shore was included in UK folk presenter, Mike Harding's own personal choice of the best folk /roots music of 2016 where Mike compared Maggie's voice to the late and great Margaret Barry – "It's because it's the real deal. three chords and the truth."
Born in London John has been living in the Boyle area for the last 25 years and has become one of the most sought after traditional musicians in the country. In 2003 he was awarded the coveted TG4 Gradam Ceoil – Musician of the Year. Carty is constantly innovative in his playing, the degree of such innovation sees that scarcely a bar goes by where he is not seeking a new perspective yet never wavering from the essence of the given piece. Invention is tirelessly put into practice and a great deal of expression is turned out of the simplest tune. Throughout his live shows, great performances of fiddle and banjo are captured with a sense of unfaltering energy and excitement. There is an uninhibited atmosphere which shows the audience just how much he is enjoying the musical moment and invites the audience to share that spontaneous pleasure.
Joining him on stage for a selection of tunes and songs from the album will be his daughter Maggie who is an accomplished banjo player and fine traditional singer. She has been described as having found her second home on stage and has a natural stage talent.  It is a hall mark of traditional music that it is handed down from generation to generation and this father and daughter gig offers the audience an insight into a living and evolving tradition that spans at least four Carty generations.  As they duet together the sense of trust, honesty, unspoken understanding and pure devilment in their music will be evident. On stage the duo have a natural ease with each other and their enjoyment and sense of fun is palpable and infectious!