News
'Light Ballet' spectacle visible over Boyle's Lough Key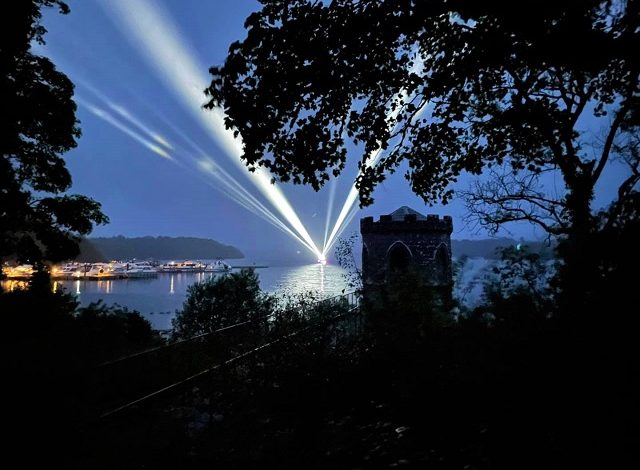 Sunday night's 'Light Ballet' on Lough Key was met with widespread approval by all those who ventured out in the rain to see the event.
The exact locations of the spectacle were not publicised in advance, but Boyletoday.com indicated yesterday that the show may feature Lough Key in it's itinerary.
Light Ballet, created by Irish Light Artist Mick Murray and Lighting Designer Matthew Cregan, accompanied by a newly composed soundscape by David Kitt is presented as part of Brightening Air | Coiscéim Coiligh, a nationwide, ten-day season of arts experiences brought to you by the Arts Council, June 2021. Light Ballet will transform eight counties' skies and surrounding landscape with a light installation floating down the River Shannon over eight days.
For those who missed last night's spectacular, the show will be visible over the Roscommon/Leitrim skies tonight and tomorrow night with the full schedule as follows:
.June 13 : Roscommon
June 14 : Roscommon / Leitrim
June 15 : Roscommon / Leitrim
June 16 : Roscommon / Longford / Westmeath
June 17 : Roscommon / Offaly
June 18 : Galway / Tipperary / Clare
June 19 : Tipperary / Clare
June 20 : Galway
Please note that Light Ballet will start at dusk each evening at approximately 10.15 pm, the artwork will run on a seven-minute cycle for four hours each night.  The full show cycle can be seen at any point along the route. There is no optimum viewing point for the installation which can be viewed from up to 7km away. In line with Public Health Guidelines, we do not encourage people to gather in groups larger than what is currently permissible:  6 people or less (from any number of households) 15 people or less (from your own household and two other households)
For More Updates 
For regular updates and to experience Light Ballet digitally,  follow Light Ballet on: