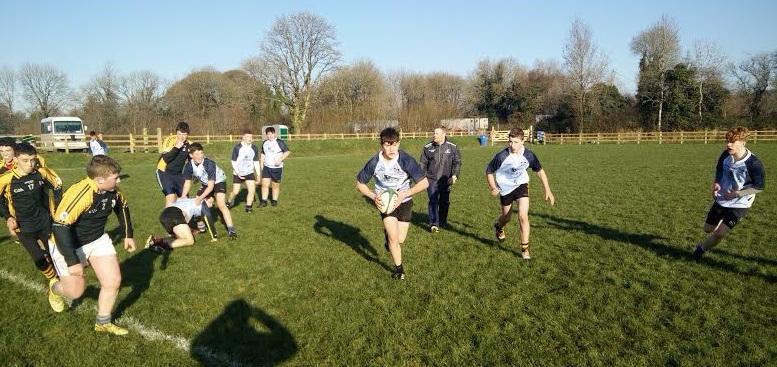 Top Oil Junior Emerging Cup
There have been mixed fortunes for both Abbey CC – Boyle, and Elphin CC in their inaugural foray into the 2017 Junior Cup.
Pool 1
Abbey CC sit comfortably on top of Pool 1, taking maximum points available from both games so far.
In their first outing they comfortably dispatched Athlone CC by 44-0.
With a clinical and ruthless display, the Boyle outfit took the lead after 5 minutes and never allowed their opposition any opportunity to settle into the game. With the try bonus point wrapped up early in the second half and the pressure off them, the Abbey team were able to express themselves and slung the ball around with confidence and ease. As the game wore on, the Athlone defence was found wanting, and Abbey increased their lead with relative ease.
Next up was last year's finalists Colaiste Mhuire Ballymote on a wind-swept January afternoon.
Again Abbey started quickly, scoring first after 7 minutes. They quickly built on their lead with 2 more tries before the break. However they didn't have it all their own way, and Ballymote found a purple patch and stuck back with a couple of tries of their own early in the second half. Abbey reacted well, dug deep and steam rolled Ballymote for the next 20 minutes. Unfortunately, Abbey squandered 3 or 4 further opportunities by not taking the correct option when it was presented. With the game wrapped up Ballymote got a deserved consolation try in the last phase of the game.
Players to watch:
Max King
Ethan Beirne
Josh Cronin
Adam Lanagan
Next up for Abbey CC will be a top of the table clash with Pres Athenry on Tuesday 28th Feb @ 12.00 in Carrick on Shannon RFC.
Abbey know that maximum points in their next game, with denying Athenry a bonus point will guarantee them a home semi-final regardless of their last game with St. Josephs College.

Pool 2
Elphin CC got a baptism of fire in their opening game of this year's competition. Gotnor Abbey applied relentless pressure in the opening stages of their encounter and eventually the north Roscommon side buckled. Once Gotnor got on top, there was no coming back for the young Elphin side.
Elphin did have their opportunities, however some superb defending denied them from making an impression on the scoreboard. As the game wore on, the experience and game sense of the Mayo outfit told and they finished with a couple more scores.
In the second round, Elphin were away to St Aloysius College at Buccaneers RFC. In a keenly fought game Elphin started the brightest and took the game to the Athlone side. It seemed that it would be only a matter of time until the breakthrough came for Elphin, however with the line at their mercy a pass was intercepted and an Aloysius player ran the length of the pitch to open the scoring. It was a sickening blow for Elphin but they composed themselves and stuck back to level the game shortly after. It was an extremely enjoyable and honest display from both teams. The game was still in the balance and could have gone either way going into the final quarter. With Elphin knowing they needed to pick up at least a point to keep their hopes of progressing in the competition alive, they threw the kitchen sink at the Athlone School while searching for the all-important 4th try and the win. Unfortunately the crucial scores never came and St Aloysius were able to wind the clock down and close the game out.
Players to watch:
Jack Murphy
Gilbert Muldowney
David Wynne
Cathal Gormley
Next up for Elphin CC is a home game against Roscommon CC on Wednesday 1st March @ 12.00 in Carrick on Shannon RFC.
Qualifying for the semis is all but over for Elphin, but with the knowledge that the majority of the squad is under age for next season's competition, they are in an excellent place.
Primary Schools
Aldi Play rugby packs
If your school hasn't yet registered for their FREE Aldi play rugby pack, the closing date is the 28th February.
There is also a chance you could have Paul O'Connell visit your school for the day!!
The equipment is available to all primary schools, so be sure you don't miss out.
Visit the IRFU website (irishrugby.ie) and follow the links for Aldi play rugby.
Schools Blitz
Carrick on Shannon RFC will be holding a primary schools tag blitz on the 14th March.
All primary schools in the region are invited. If you haven't received your Aldi play pack, you can pick it up on the day.
With the Women's World Cup taking place later this year in Ireland, each school will represent a participating country, and we will have a mini world competition on the day. It promises to be a fun filled event with a few surprises on the day.
This event is open for both boys and girls; with a girls section and boys section.
It's not too late to register to register your interest for the blitz or to get tag rugby into your school. Contact Colm with any questions or queries.