News
Meeting to transfer lands to new group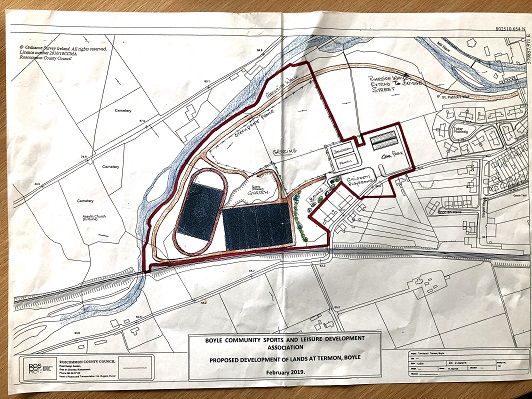 A public meeting will be held in St. Joseph's Hall on Friday November 1st at 8.30pm to gauge the interest in Boyle to transfer the Termon Lands to a new Community Group – Boyle Community Sports Association.
The lands have been held in trust for many years with the purpose of 'depasturing cattle and horses'.
It is understood there is only a limited number of horses presently grazing the 26 acres of land on the western side of Boyle.
The Department of Agriculture, Food and the Martine are in favour of  the transfer of Trust properties nationwide, in their entirety, to community companies for community uses and have requested that a public meeting be held to ensure their is broad general support for such a transfer.
Boyle Community Sports Association is a new not for profit group made up of representatives from a number of clubs and organisations in the town.
Their aim is to develop the Termon Lands in to a Community Sports Facility to include but not limited to:
Running Track
GAA and Soccer training pitches
Basketball, Tennis, Bowling areas
Sensory Garden
Fishing Stands
Children's Playground
Swimming area
Car Park and sports building
In addition, a portion of the land will remain for the grazing of cattle and horses as set out under the original Trust.
It is also propose to seek an extension of the soon to be constructed riverside walk at the Royal Building to the Sport Development making it possible to cycle or walk off road from the Pleasure Grounds to the proposed facility.
The people of Boyle are being requested to attend the meeting at which members of the Boyle Community Sports Association, Termon Land Trustees and Department of Agriculture, Food and Marine will be present.