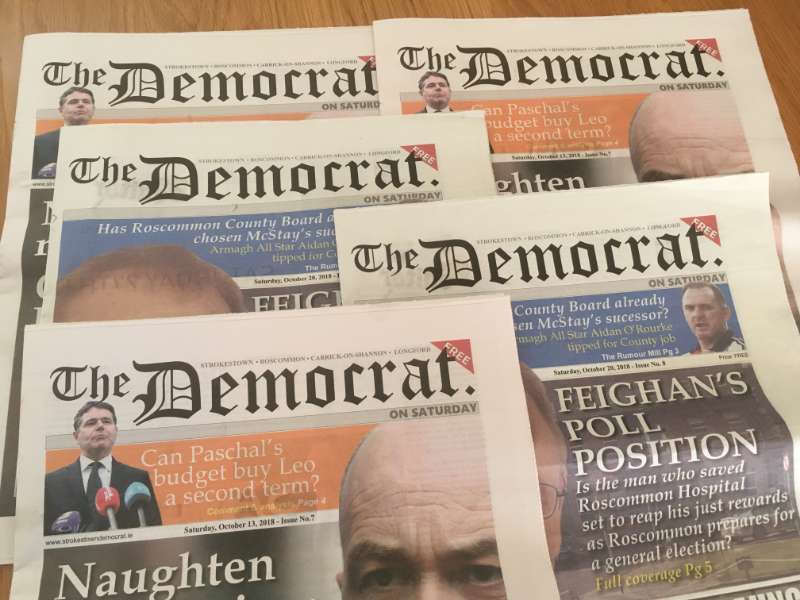 A new newspaper has hit the shelves of County Roscommon.
'The Democrat' is the brainchild of local entrepreneurs Emmett Corcoran and Phelim O'Neill and has it's head office at Bridge Street in Strokestown.
The free newspaper is distributed on Fridays in three counties – Roscommon, Leitrim and Longford.
According to a spokesperson for the title: " We have exciting plans for the future and intend to expand further into the community".
"Presently we are asking all community groups, contributors and sporting organisations to forward us news or information for publication and we will do the rest. You can mail the team directly on [email protected]".
"Last week we were delighted to be the first newspaper in the county to break the story on Aidan O'Rourke becoming the new Roscommon team manager, before he dramatically turned down the post. You can expect plenty more breaking news stories in future editions of The Democrat" the spokesperson concluded.
If you would like to stock The Democrat or are interested in advertising or contributing please contact the following:
News: [email protected]
Distribution: [email protected]
Advertising Sales: [email protected]
T: 071 96 33694 / 071 96 22779
E: [email protected]