News
Over €2m funding announced for Boyle town enhancement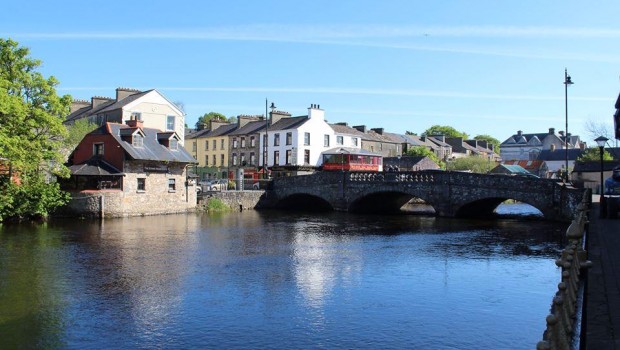 Over €2 million in funding has been announced this morning for Boyle town.
€1,872,900 is being allocated under the Rural Regeneration Fund for the 'King House Cultural Quarter Enhancement Project'.
When additional funding from Roscommon County Council is taken into account, the total amount allocated for Boyle today will exceed €2m.
It is understood the funding will be used for an Enhancement Project that will include the provision of redesigned paved areas along Bridge Street and Shop Street to improve pedestrian infrastructure along with new surfaces, lighting, hard and soft landscaping and street furniture in this town centre area, redesign of the existing public car park adjacent to the Post Office to address existing car parking arrangements and provision of a newly designed car park for safer pedestrian and traffic movement and improved landscaping and surfacing to enhance the visual amenity of this area along with all other site and ancillary works associated with the above. Investment will also be made in the facilities and attractions at King House.
Part 8 planning for this reduced enhancement project was voted through by Councillors last November. The initial plan had included the Crescent area but following concerns and submissions by a number of parties, the Crescent was excluded from the project.
Announcing the news this morning, Minister Frank Feighan said: "This funding as a significant boost for the revival of Boyle town centre for retail, tourism and cultural revival. The project proposes to 'reimagine the King House Cultural Quarter in Boyle Town and is the next step in realising the Boyle 2040 Framework Plan focused on town centre living, economic and tourism development in the centre of the historic town of Boyle'. This project will cost €2,081,000 in total with Government funding of €1,872,900".
"I want to thank Roscommon Co Council CE Eugene Cummins and his teams for their application."
"I want to acknowledge Minister Humphreys department for selecting this project, as Boyle is my home town and I am thrilled and honoured as a local TD and Minister to be in a position yet again to welcome more central Government funding for town regeneration following Minister Humphreys announcement around the development of the Royal Building last Autumn"
"In conclusion, I wish to acknowledge Boyle Town Team and the many community activists who are working hard in a voluntary capacity to promote and re-develop the town of Boyle. Todays announcement is further evidence of my governments commitment to them and the regeneration and development of Boyle" concluded Minister Feighan.
Brian Nerney Chairman of Boyle Town Team, said the Team were absolutely delighted at this morning's allocation.
"Having worked with Roscommon County Council on this project application, Boyle Town Team are delighted at this news. The project will totally transform the street scape of Bridge Street and Shop Street and the 'King House Cultural Quarter' and is really the icing on the cake from a public realm perspective"
"On behalf of the Team, I would like to thank Roscommon Co Co and CEO Eugene Cummins for their continued interest in the development of Boyle, the local elected representatives, Minister for Community and Rural Affairs Heather Humphreys and her officials and in particular local man Minister Frank Feighan who has ensured that all the applications that have been made to Government from the town over the last few years were successful".
"To date, Boyle Town Team and Roscommon Co Co has secured an unprecedented sum in excess of €6m in grant aid for the town and while I can well understand the frustration of the public that no work has actually commenced on the various projects, this should change very quickly, very soon as Level 5 Covid restrictions are lifted in relation to allowing non essential construction to resume".
"This morning's announcement, added to the regeneration of the Royal building, the upgrade of the Pleasure Grounds, the paving and upgrade of the rear of Main Street and other projects yet to be announced will make Boyle town centre much more visually attractive, which will in turn, entice more tourist to the town and increase investment in the commercial and residential heart of Boyle" concluded the Town Team Chairman.
The news has also been welcomed by Dr Bláithín Gallagher – Constituency Spokesperson and National Coordinator of the Green Party/An Comhaontas Glas who said: "These projects supported under the latest round of RRDF allocations are part of the vision for rural Ireland being driven by the Green Party, where our "Town Centres First" policy is being enabled by the creation of shared civic gathering places. We congratulate the communities of Boyle, Dromahair and Mohill for their vision for the wellbeing of their towns and the legacy that they are building.  These projects will support remote workers and commuters to work from and remain in their own local community."