News
War dead remembered in Boyle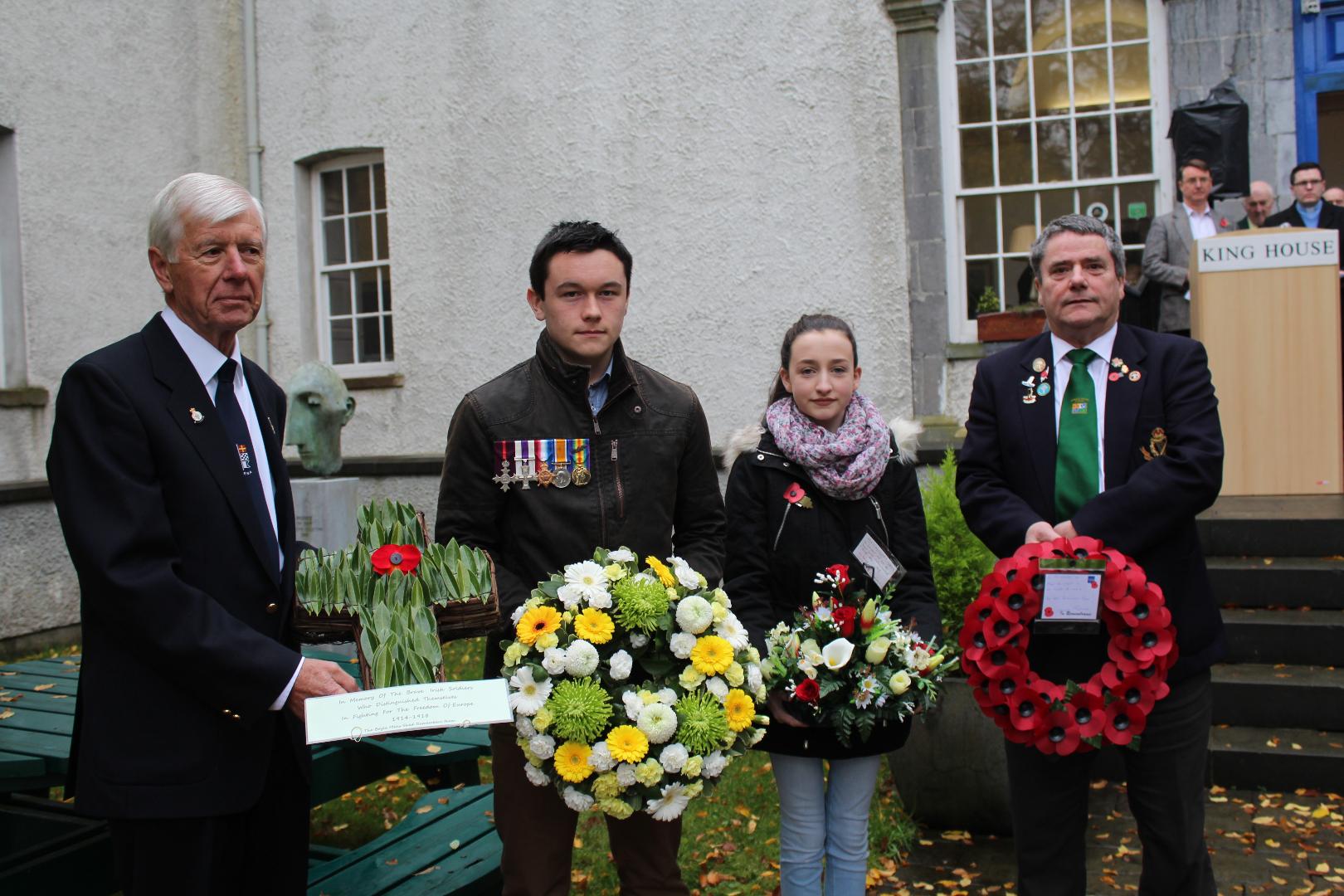 The annual Service of Commemoration in the grounds of King House took place on Remembrance Sunday November 13th.
The names of the men from Boyle and surrounding parishes who were killed or died of wounds during the 1916 Great War were read out and remembered by those present
The Commemoration Ceremony wasfollowed by a lecture by author and journalist Chris Dooley.
Chris gave a talk on the life of John Redmond, leader of the Irish Parliamentary Party at the time of Word War 1.
The following are those from Boyle who died in 1916 and who were recalled at the ceremony by Paul Malpas, Connaught Rangers:
Pte Patrick Murray 9911 1st Connaught Rangers 3rd March 1916
L/Cpl James Patrick Beirne 9934 1st Connaught Rangers 12th April 1916
Pte Patrick Murphy 3359 1st Connaught Rangers 6th May 1916
Pte Patrick Madden 1564 6th Connaught Rangers 28th May 1916
Petty Officer Charles Monson HMS Defence 31st May 1916
Pte George William Nelson 18092 9th Royal Inniskilling Fusiliers 1st July 1916
Pte John Dodd 8918 1st Connaught Rangers 9th July 1916
Pte Martin Connor 1367 Machine Gun Corps 13th August 1916
Pte Joseph Lavin 3074 2nd Leinster Regiment 18th August 1916
Pte John Patrick Murphy 6787 6th Connaught Rangers 3rd September 1916 (real name Thomas Redican)
Pte Martin Stokes 5204 6th Connaught Rangers 3rd September 1916
Capt Herbert William Monson MC 8th Royal Dublin Fusiliers 7th September 1916
Pte Thomas Connor 6679 1st Battalion Irish Guards 15th September 1916
Pte Thomas Carty 6530 1/8th Kings Liverpool Reg 26th September 1916
Lt Samuel Cecil Webb 6th Battalion Royal Munster Fusiliers 3rd October 1916
Pte Patrick McDermott 12711 19th Manchester Regiment 11th October 1916
Cpl Frank Gaffney 25624 10th Royal Dublin Fusiliers 13th November 1916
Pte Patrick Edmond O'Beirne 19261 6th Royal Dublin Fusiliers 20th November 1916
Sgt Patrick James Oates 29339 1st Inniskilling Fusiliers 20th November 1916
Capt. Cecil William Hannington Parker Worcester Regiment killed in action on 27th December 1916 at Couin, Arras, France. Born in Croghan, the son of Canon of Croghan, RevW H Parker. He is buried at Couin British Cemetery, Pas de Calais, France