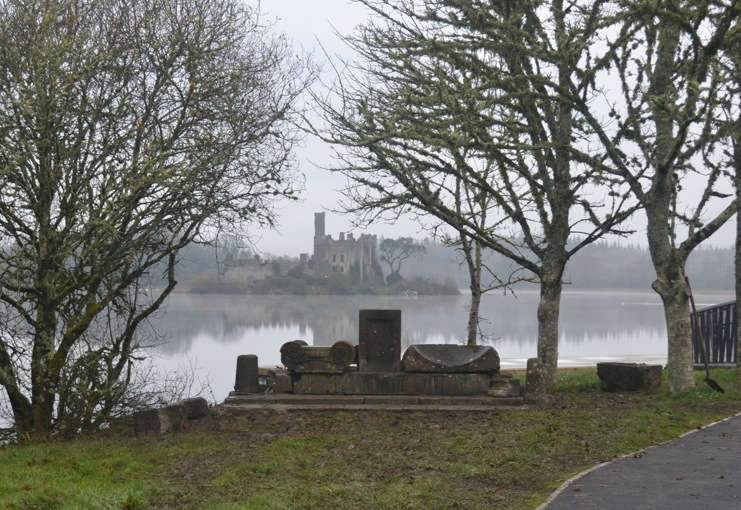 By Brendan McGee 
 Joseph O'Connor, Sinead Crowley, Mary McEvoy, Declan Burke, Niall de Búrca and Tarquin Blake, will all be in Boyle during the next ten days as part of the 25th annual Boyle Arts Festival, which runs from July 25th to August 2nd.
 The Festival's spoken word & literature programme will start off with two events by traditional storyteller, Niall de Búrca, in King House on Friday July 25th. The first is a family storytelling event and the second is 'Where the Poppies Grow- Stories of the first World War'. Following this, BAF Curator Patrick T. Murphy RHA will conduct a tour of this year's BAF Main Exhibition. Later, at 4pm in association with Roscommon Arts Centre, Irish born Australian artist Sean Rafferty will discuss 'Rockingham' in the Moylurg room in Lough Key Forest Park. The day will finish with a discussion on 'Relics of the Ancestors' and the Carrowkeel Passage Tombs, by Archaelogy lecturer Sam Moore, in King House at 6pm.
 Two events will make up our 'Crime Writers Weekend' in King House. First up is Author, Declan Burke who will present 'Emerald Noir' and give a talk on Irish Crime Writing on Sat. July 26th at 1pm. Declan, who reviews crime novels for the Irish Times is also the author of 'Crime Always Pays' and 'Absolute Zero Cool'. On Sunday July 27th at 5pm, Arts & Media correspondent with RTÉ, Sinéad Crowley will read from her first novel 'Can Anybody Help Me?'
 An Evening with the Moylurg Writers is always a special event and Sunday July 27th will see an enchanting night of poetry and prose in King House. The results of the 2014 BAF Poetry Competition will also be announced by writer Michael O'Dea, followed by a reading of his own work. Australian poet Ross Donlon will also contribute. This very special event will take place at 7:30pm.
 'No Room for Two Sets of Heroes' will examine the role of the Connaught Rangers in the Great War on Monday July 28th.Oliver Fallon will discuss their fate, when they returned to a much changed Ireland in 1919. This event will take place in King House at 6pm. On Tues. July 29th, award winning novelist Joseph O'Connor will make a welcome return to Boyle with a lunchtime reading from his latest novel 'The Thrill of it All' in King House at 1pm. And later the same evening at 6pm, John Clapison and Triona Mullaney-Dignam will discuss 'Fueds, Feminism and Frankenstein' the remarkable story of Robert & Caroline King.
 Don't miss the chance to avail of a Curator's tour of the Roscommon Forum Exhibition. This exhibition will take place throughout the Festival in the Roscommon Herald building and on Friday Aug. 1st at 4pm, joint curators Linda Shevlin and Angie Duignan will take you on a tour of the Exhibition. In collaboration with Literature Wales, BAF welcome Welsh writer, Gemma Howell to King House on Friday Aug. 1st where she will discuss a centenary of Dylan Thomas at 6pm.
 The final day of Boyle Arts Festival, Sat. Aug. 2nd will include a 'Historic Walking Tour of Boyle' presented by DannyTiernan. The walk will begin outside King House at 12pm. Local man Michael Archer, will discuss the 'Habitats and Wild Flowers of Boyle' in the Ardcarne garden centre at 2pm  and the BAF spoken word programme will conclude with a discussion on 'Ancient Ireland' by explorer, photographer, author and historian Tarquin Blake in King House at 4pm. For more details on the lecture and literature events, please check the Festival programme.
 The Drama programme will  jump into action when the recently formed 'Clock Theatre Group' present Brian Friel's hilarious comedy 'Communication Cord' in St. Joseph's Hall on Sat. July 26th at 8pm. This is the group's third consecutive drama for BAF and it is one show not to be missed. On Wed. July 30thst the Local Drama group (Boyle) will present 'Joining the Club' a short one act comedy in Dodd's Crescent Bar at 6pm.
Starring Mary McEvoy as Della Dolan, 'Fruitcake' starts off as a cookery demonstration but develops into an account of one woman's life. Beat the recession depression with this funny, poignant play which will be performed in the unique surroundings of Margaret's Café on Thurs. July 31st. Admission includes Tea/Coffee. Two children's puppet shows will conclude the BAF drama programme on Sat. Aug. 2nd. Little Gem Puppets will present 'Maggie' at 2pm followed by 'Little Red Riding Hood' at 4pm in St. Joseph's Hall.
 n the Film programme, 'The Essence' is a short film by Frank Loopmans that explores artistic creativity as understood by artists from different art disciplines. They each deliver their own personal interpretation of what creativity means to them. This powerful, compelling film will be shown at 4pm and 5pm on Sat. July 26th in the King House auditorium. There will also be a chance to see the recent highly acclaimed film 'Philomena' on Wed July 30th at 3pm. And for children, there will be a screening of 'The Lego Movie' on Monday July 28th at 3pm.
 Full details of all the events are in the festival programme. For booking and further information, call to the Festival office in Bridge St. Boyle, beside Marian's, open every day (except Sundays) until August 2nd. Also go to www.boylearts.com  Online booking for selected events at www.eventbrite.ie  email [email protected]  Tel. 071 9663085 or follow us on Facebook and Twitter.