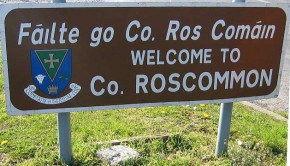 Roscommon County Council will host a Workshop on Sunday on how the county can best link in with our 'Roscommon Diaspora'.
Our 'Diaspora' is made up of those members of the wider Roscommon family who no longer live here but have moved somewhere else, either in Ireland or overseas. That wider Roscommon family is made up of people who have their roots here going back a few generations as well as those who have left much more recently.
The Council wants to set out a plan to strengthen 'the Roscommon family' socially and economically.
As part of the process they will hold a "Breakfast Workshop" in Hannon's Hotel, Athlone Road, Roscommon Town this Sunday March 18th. The workshop will begin at 10am and will include breakfast. It will be sharp, structured and focused and will conclude at 12:30pm.  Attendees will receive complimentary tickets to the Roscommon game later in the day.
This will be an important event for our County and its people.
If you'd like to attend please email [email protected] or call 090 6637235 ASAP. If you normally bring someone else with you to the football they may wish to participate on a Guided Historical Walking Tour of Roscommon which will run alongside the Workshop. If you are bringing a guest who would like to go on the tour you can mention that when making contact.