News
Thank you from Musical Society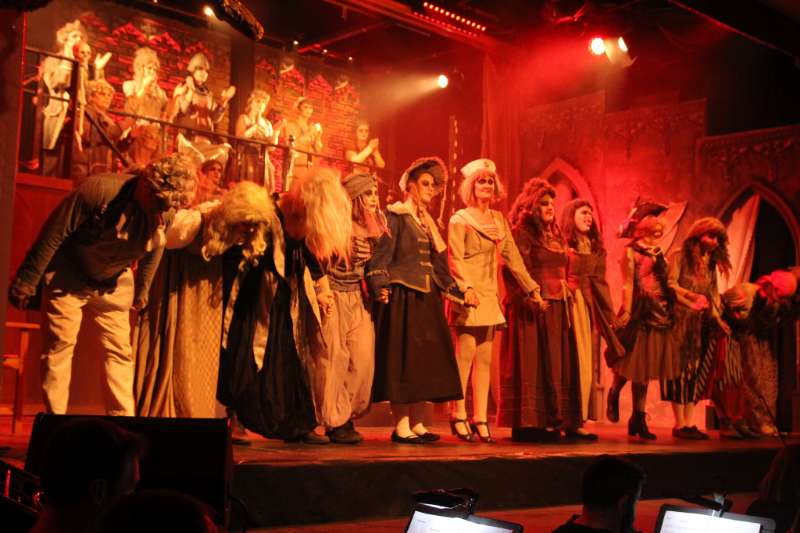 Well, we really did not know what to expect when we heard that the Addams Family would be coming to town for a few nights in November. But they came, they entertained and they certainly left a lasting impression, before we reluctantly bade them farewell on November 24th.
We, the Boyle Musical Society Committee would like to extend a very sincere thanks to the business people and community of Boyle for responding so generously yet again, both by subscribing to the funding of  our show and by their presence in such large numbers at every performance. To those who contributed to the show, either financially or otherwise and were too late for inclusion in our programme and to all who sponsored prizes – a very special 'Thank You'. We urge everybody to love where they live, shop local and support all our local businesses over the Festive season.
We would of course like to thank our brilliant, talented cast of 32, especially all those who travelled to join us this year. The leads were so well cast and chorus sang, danced and acted ghoulishly well – the costumes, make-up and hair definitely helped people to throw themselves completely into the roles of dead ancestors!
Thanks to the brilliant talents and endless energy of Vivienne and Anne in our Production team, not forgetting to mention the stage crew, set builders, our light and sound teams, our costume, make-up and hair teams, the orchestra, pit chorus, the front of house team, ticket and programme sellers, ushers, tea ladies and those who donated props. We are especially grateful to all our sponsors, patrons, subscribers and associates. We are also indebted to the St. Joseph's Hall committee and Abbey Community College for rehearsal facilities. We are also grateful to the staff and management of Únabhán, for allowing us to use their premises as our booking office this year.
From backstage to front of house, we have a powerful machine which starts up in preparation for rehearsals in  September and operates to full capacity in the run up to and during the show, every November.
We have such a fantastic team behind us, to ensure the show goes on each year. There were 52 voluntary, talented and generous people, who helped out in every way possible this year. The community spirit in Boyle is definitely alive and well.
Publicity is vital for any production and we thank all the local publications, Roscommon Herald, Roscommon People, Leitrim Observer, Sligo Champion, Boyle Parish Newsletter and all who made room for our posters and signs. We would especially like to thank realboyle.com, Boyletoday.com, Charlie McGettigan of Shannonside FM, and Áedín Gormley of RTÉ Lyric FM. We are very grateful to Sean O'Dowd, Benny Morgan and Mary Regan for their beautiful photographs and also to Pat Gannon and Thomas Gallagher, for managing our billboards.
Like any local voluntary organisation, we've had our ups and downs over the years but it has always been our intention to showcase the abundance of talent that we have here and to bring a little love, light, magic and music to everybody. In only a few months time, the task of choosing a new show will have to be overcome. By September, rehearsals will be underway and by mid November, Boyle Musical Society will be ready to raise the curtain on their 36th annual production.
Brendan McGee,
PRO
Boyle Musical Society.
Photo by Benny Morgan.