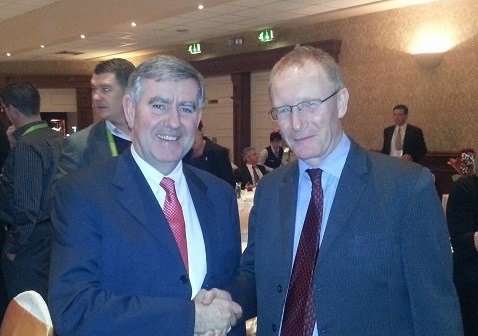 Castlerea native Irial Finan who is stepping down from his role as Executive Vice President and President of Bottling Investments Group in the Coca-Cola Company.
Paying tribute to Mr Finan, Senator Frank Feighan said "After more than thirty five years with one of the world's most recognisable companies, Irial is now retiring after successfully managing the five-billion-dollar internal bottling business.
"Finian is an absolute credit to Ireland and Roscommon and always promoted his native country on his extensive travels across the globe.
"He has been a wonderful ambassador for Ireland, not least with his work with the American Ireland Fund. Indeed, a number of years ago, he was presented with the Leslie C. Quick Jr. Leadership Award by the American Ireland Fund in recognition for his personal and professional commitment to Ireland.
"Five years ago, Irial was the keynote speaker at a MeetWest event held at the Hodson Bay Hotel in Kiltoom where he gave a passionate speech about Ireland and how much it had to offer potential investors.
"I had the great pleasure of chatting to Irial at the event and he spoke about his love for his own county and how he still followed the fortunes of Roscommon football."
"I wish him the very best in his retirement years."
Senator Frank Feighan pictured in 2012 with Irial Finan, Coca-Cola Executive Vice President at MeetWest, a business networking event held at the Hodson Bay Hotel.