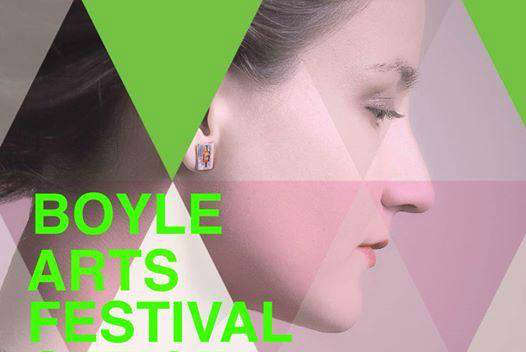 Boyle Arts Festival are delighted to announce that Mr. Paul Young will open the eagerly anticipated 2015 Visual Art Exhibition, in King House, Boyle, on this Thursday July 23rd   at 8pm. A native of Boyle, Paul is a member of the internationally renowned Cartoon Saloon, who has just seen their Academy Award nominated film, Song of The Sea go on general release. Paul will also officially open the 2015 Boyle Arts Festival and this will be celebrated by an outdoor musical performance by the group Rakish accompanied by the aerial performance of Fi Rooney in the grounds of King House. This will be followed by a magical, illuminated night time parade through the town by the Castlerea Carnival Group from 9:30pm. Come along, bring the family, join the fun and line the streets for this enchanting event.
 ( by Brendan McGee)
The Boyle Civic Art Collection consists of almost 300 artworks representing the very best of contemporary Irish painting and sculpture. This year, the theme of the exhibition is Conversation and to celebrate the 26th  anniversary of Boyle Arts Festival's Visual Arts Exhibition, we have selected artwork from the Civic Collection and asked the artists concerned to respond to their own work by producing a new and complimentary piece to 'converse' with their earlier work. In the spirit of extending the visual conversation and looking to the future, we have also invited a selection of recent graduates from the National College of Art and Design (NCAD) to exhibit alongside Ireland's creative elite. This year's exhibition has been curated by Tony Murphy of NCAD.
 Practicing artists from near and far include Sean McSweeney, Margaret O'Hagan, Nick Miller, Naomi Draper, Colm Brennan, Malachy Costello and Vivienne Roche. The Main Visual Art exhibition is open between 11am and 6pm every day and during events in King House, from Thurs. July 23rd until Sat. August 1st. Over the past 26 years, the Boyle Civic Collection has expanded to almost 300 pieces of art – the commission earned on art sales goes towards the purchase of a number of works from the Main Exhibition each year. The collection has been further enhanced by generous donations by artists, trusts and private individuals. The collection is exhibited in King House during the year and in recent times, works are shown in various premises in Boyle where they can be viewed and appreciated by the public.
 The Local Artists Expo in the Parochial School provides a forum for artists who would otherwise find few opportunities to display their work. The art is always of an exceptionally high standard and the exhibition provides an important showcase of talent. Many of the artists from this exhibition, such as Vera Gaffney, Vivian Murray, Annette Gaffney, Vida Pain and Tina Brooks have excelled to higher levels in their own private exhibitions, or have been invited to exhibit in the main King House exhibition. Entrants are judged for three prizes and the overall winner receives the Sue Hill trophy and the most promising U25 artist receives the Éilís Kilgallen award. Open 10am to 6pm daily.
The renowned Boyle Camera Club, with over 50 members, will showcase a rich and diverse range of their photographic images in the town library at King House, during library hours from July 23rd to Aug. 1st.
 Work by the Roscommon Visual Artist Forum can be viewed are the rear of the Roscommon Herald building, from 11am to 5pm daily. Shifting Perspectives will showcase work by artists working outside the cultural centres, creating a dialogue concerning art in rural contexts.
 The Brothers of Charity will recreate the legend of Únabhán during BAF 2015. Watch out for characters and figures as they pop up around the town, during the week.  Also, don't miss the exhibition of works by artist, Naomi Draper in the Harrington Studios, King House. Open from 1pm to 6pm daily.
'A WoMaN Friend' by the Mixed Hues Artist Group will present a collection of mixed art pieces, focusing on the places and objects artists hold dear in their emotions and memories. This exhibition will take place in the Family Life Centre every day from 11am to 6pm, until July 31st.
  Also, keep an eye out for 'pop-up galleries' and small exhibitions in various shop windows in the town, during the course of the Festival.
 Please note that entrance to all exhibitions is free.
 Once again, an exciting range of children's and adults workshops have been organised for Boyle Arts Festival.
First up, for Children there's Telling Tales with Naomi Draper. Tell your tale and delve into an exciting world of colours and shapes, bringing stories to life from bookmaking to moving image. Throughout one week, explore a range of different techniques including paper folding, collage, puppet making and stop motion animation. Suitable for 4 to 6 year olds and running from Monday 27th July – Friday 31st July, 10am-11.30am in Abbey Community College.
 Back by popular demand is Singskool with Roisín Egan, an exciting workshop action packed with singing & performing, allowing your child to really shine! Build their confidence by learning new musical, vocal & performance skills. Join fully qualified music instructors for a week of creativity and fun and then show off your new skills in a show-stopping performance at the end of the week for your family and friends. This workshop will run from Monday 27th July – Friday 31st July, 2.30pm – 4.30pm in Abbey Community College and is suitable for 7yrs – 14yrs.
On Saturday, July 25th Susan Boyle will lead workshops where you can make and design candles or design a colourful bag or T shirt. This workshop is suitable for children aged 7 years upwards.
For adults, there will be a workshop in singing, conducted by Niamh Parsons who has come to be known as one of the most distinctive voices in Irish music. This workshop will take place on Thursday July 30th, from 8-9.30pm at The Crescent Bar.

Also worth checking out is 'Writing Better Poems' by author and poet, Gerry Boland. The workshop will examine two poems in minute detail, exploring what it is about these poems that make them stand out, that make them truly memorable?
Participants will be given writing exercises, the aim being to produce a first draft that has promise. Time permitting, a second draft will be worked on: adding, subtracting, fine-tuning, rearranging, even rewriting, if necessary. Some participants will – hopefully! – leave with a new poem of substance! Sat. August 1st at Boyle Enterprise Centre, 11am to 1pm.
John Mulligan, a writer and journalist from Boyle, is the author of three published books, Dancing on the Waves, Following in the Footsteps of the Four Famous Flannerys and No Place in the Sun.  John will conduct a workshop on 'Flash Fiction and Routes to Publication'. 'Flash Fiction' describes very short stories, typically no more than 300 words long. This workshop offers techniques and tips for Flash Fiction, and the application of these techniques to other areas of writing. The workshop also includes practical advice on routes to publication for aspiring writers.
Saturday August 1st, Boyle Enterprise Centre, 2:15pm to 3:45pm.
 Please note that advance booking is required for all workshops.
 For more information, see our programme or call in to The Festival office, next door to Marian's on Bridge St. The office is open every day from 11am, (excluding Sundays) from now until August 1st. For more information go to www.boylearts.com  Tel. 071 9663085. Email [email protected] or find us on Facebook, Twitter and Google+
Boyle Arts Festival acknowledges the support of the Arts Council, Local businesses, Roscommon County Council, Foras Eireann and RTE Supporting the Arts.