Soccer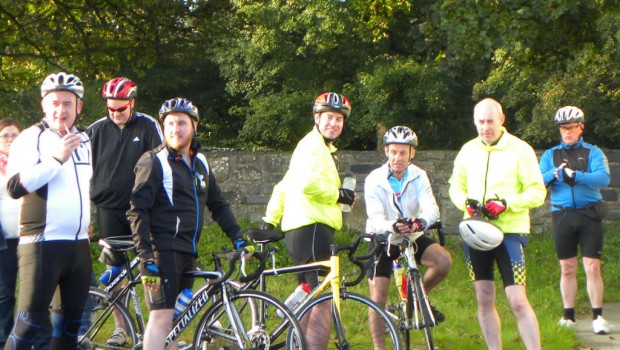 Published on September 8th, 2014 | by BoyleToday.com
0
Boyle Celtic say "Thank You"
The 2nd annual Boyle Celtic to Croagh Patrick challenge was a huge success with the weather providing a welcome boost to the brave souls who departed at 8am(ish) last Saturday. Participants had a brilliant day out. We wish to extend a huge thanks to all of our helpers and sponsors.
Sandra McCrann played a stormer as usual as head of nutrition and also doubled up as the broom wagon early on while Owen O Donohoe Snr. got an extra hour sleep for himself. That said, Owen Snr. was a key motivator all day, keeping spirits up with his sharp wit. He drove "The Drumderrig Nursing Home Bus" with suitable aplomb. The club would like to thank Mickey and Paula Cull for kindly giving us the loan of the bus for the day to bring all the cyclists home. Gerry Emmett and Kevin Flynn were kind enough to marshall the Grand Depárt and wished us well (I think). Brian Nerney (BoyleToday) and Sean O' Dowd (RealBoyle) were on hand to take photographs of everyone and we thank them for their continued support and publicity.
We cycled out through Ardagh, Cloonloo and Gurteen without incident and energy levels were enthusiastic to say the least. Enda Madden and Gavin Brennan controlled the pace and the enthusiasm, thankfully. These two lads deserve great credit for ensuring the safety of all. The left turn at Carn National School features a small but sudden hill and this saw the peleton squeezed up slightly. Declan Martin had a chain slip and Richard Kennedy showed admirable skill to avoid him but alas he came down. A band aid was applied to the knee and the hero was able to continue. He never cried once.
James Woods and family had setup a water stop at Cuilmore cross which was appreciated by all and he also gave us an extra medical bag in case Richard took another dive. From there it was onto Charlestown and "Evel Knievel" aka "Padge" aka Alan McPadden made use of the finish chute and podium finish line constructed for a running race on Sunday to display his incredible ability to dodge a wall of cones which were blocking his exit. On the other side of Charlestown at the Swinford turn we had our food stop. Tea, coffee, sandwiches, biscuits, buns, cakes, bananas. Sandra McCrann Catering leaves no stone unturned. Fuelled to the gills after that, we made record time through Castlebar, through Westport and out the coast road to Croagh Patrick.
Our logistics team of Brendan Tiernan, Peter Noone, John Finneran, John Moran and Enda Madden got the bikes packed and transported to Boyle for us. Thanks lads for giving your time up. This allowed the cyclists to transform into mountaineers and tackle the reek. Once the climb and descent were complete we were treated to soup, sandwiches, chips and a very warm welcome by the staff of Campbell's pub. We also had not a small amount of Guinness to quench the thirst. The club would like to thank Padraic Fitzpatrick and his brother Richard (both of Forest View, Boyle) for arranging this for us.
Once the Tour De Force that is Micky Reid (65 years young) had completed the 101km cycle, the 3 hour climb and his bowl of soup, he then drove us back to Boyle where we enjoyed a few more pints. All in all a great days work. He's some man for one man. Well done to all.