News
Moone Boy Fest this weekend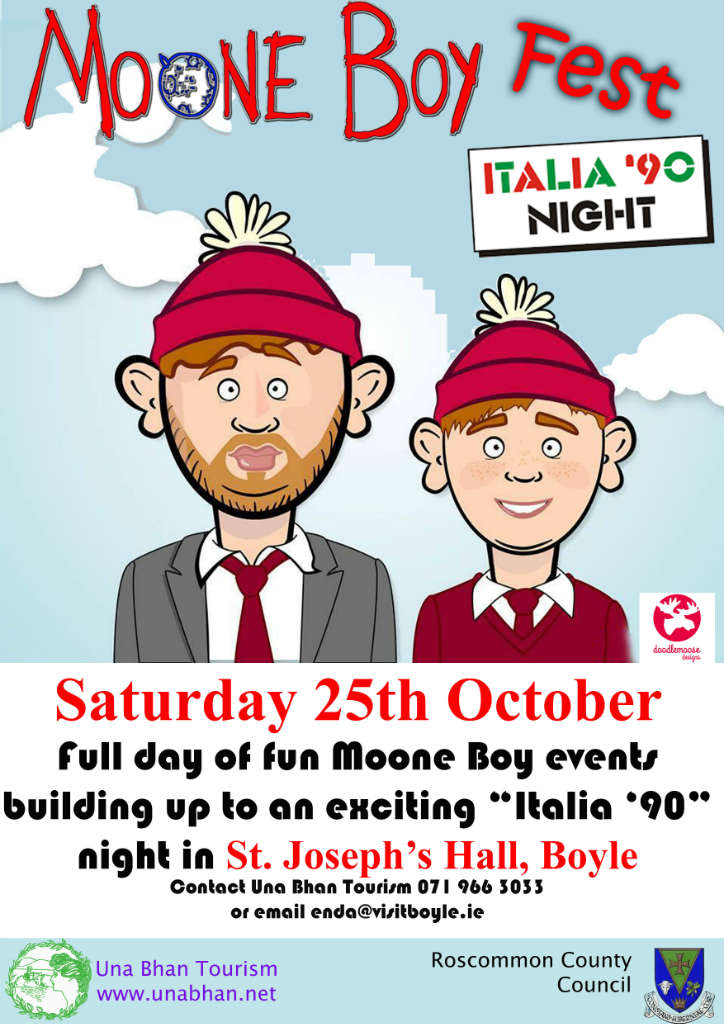 Moone Boy Fest plans to paint the town green, white, gold 'and red' this Bank Holidayweekend….This event is being spearheaded by Una Bhan Tourism, with the help and assistance of Roscommon County Council, BoyleTM and the local community, plans are in motion for a memorable weekend with a difference! The Theme of the Fest is Moone Boy but will also include the reliving of Italia '90. The first episode of the 2nd Moone Boy series relives the excitement of Italia 90 while in search of Packie Bonners house!! Boyle will relive a memorable and exciting event in Irish World Cup history with special guest – the real Packie Bonner!
The businesses are showing their support by organising lots of events, special offers and entertainment in keeping with the theme of the weekend. Boyle is a place not to be missed this weekend – see the programme of events available in all local outlets. We appeal to all Boyle business and owners of shop premises if you have not done so already, to decorate your windows in Moone Boy and / or Italia 90 images and memorabilia.
A large number of visitors are expected to Boyle in the hope of catching a glimpse of our well loved and renowned Moone Boy celebrities to include Chris O'Dowd, David Rawle and Ian O'Reilly along with many other of the award winning TV series cast.
This is an 'all access ticket – only event' with children under 12 yrs Free and adults only €10. Tickets provide access to all events (Moone Boy book launch, Reliving Italia 90 & Reeling in the 90's Disco) in St Joseph's Hall, Boyle and on the guided Moone Boy cycling trail (pre-booking for guided cycle essential). Tickets are now available from Una Bhan Tourism, Grounds of King House, Boyle or online at www.unabhan.ie and are selling fast so to avoid disappointment purchase before the event.
Wed 23rd Oct to 1st Nov – Boyle Shopping Spree to be in with a chance to win €500 Boyle Shopping Voucher
Sat 25th Oct
10am to 2pm – the day starts off with Boyle Farmers Market with many Moone Boy specials, food tasting, lamb Spit Roasting and live music by Egan & McGlynn. There will also be a life size photo image of Chris O'Dowd and Martin Moone (with cut out faces) for a quirky photographic opportunity!
10am to 1pm – National School's drawing competition entries on view in King House with the winners announced at 12 noon. Winning entry of Boyle Girl Guides essay competition judged by Dawn O'Porter on display.
11am, 1pm & 3pm – Guided Moone Boy cycling trails taking place from Grounds of King House, Boyle through the streets of Boyle with Electric Bikes and Trailcycling.ie (pre-booking essential and included in the €10 All Access Ticket).
11am to 6pm – The Moone Boy Segway Glide through Lough Key Forest Park, guided tour taking in many Moone Boy filming locations and see where 'Island Joe' lived (not included in all access ticket – however a reduced price of €15pp).
12noon to 2pm – Marian's Fashions, Bridge Street, in store Xpose styling event with stylist Katherine.
12noon to 3pm – Boyle Musical Society Booking Office, Bridge Street, open for 'Premium' ticket purchase for upcoming stage musical 'Grease'.
2pm – Boyle River Miniature Raft Race to win 'Moone Boy Island Joe' Trophy. Businesses, clubs and individuals are encouraged to make their own miniature fun raft and convene at Stonehouse Cafe, Bridge Street at 2pm for a fun river race to Pleasure Grounds!
7.30pm – Doors open St Joseph's Hall, Boyle
8pm – Moone Boy 'The Blunder Years' Book launch with authors Chris O'Dowd and Nick. V.Murphy, joined by many of Moone Boy cast members from the award winning TV series.
9pm – Relive Italia 90 – exciting footage from 1990 including highlights of the many exciting Ireland games leading up to and including the quarter finals match with Packie's famous save,  snippets from the series in Moone Boy and around the Country. This may also be your one and only chance of seeing the 'actual' World Cup Trophy, which will be one site for a photo oppurtunity!!
10.30pm – Reeling in the 90's Disco with DJ Dermot
Please note there will be a fully licensed bar in St. Joseph's hall on the night.