News
2016 CIE Tour includes Boyle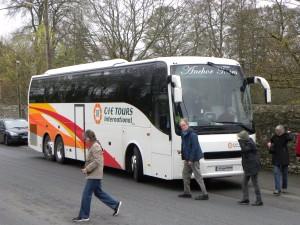 After being omitted in 2015, Boyle is once again included in itinerary for the 2016 CIE "The Scots Irish Tour".
This 11 day tour departs Edinburgh in Scotland and concludes in Shannon, Co. Clare.
Day 8 and 9 are relevant to Boyle as the tour overnight's in Kilronan Castle with the following itinerary:
Day 8: Glenveagh National Park & Kilronan Castle
Travel to Glenveagh National Park where Captain Adair built Glenveagh Castle in 1870. Learn about the history of the mansion on a guided tour and walk around the extensive gardens filled with exotic plants. Stop in Donegal town for a look around on your own and enjoy some lunch. Continue to Kilronan Castle for a 2-night stay and relax in the great setting.

Day 9: Enniskillen Castle & Boyle Abbey
Drive north this morning to Enniskillen, strategically situated on the banks of the picturesque River Erne. Tour Enniskillen Castle, which was once the home of the Gaelic Maguire chieftains and represents an important part of Fermanagh's rich history and heritage. Enjoy a casual lunch and then take a stroll around the beautiful ruins of Boyle Abbey, an early Cistercian community founded in the 12th century. Return to your castle hotel to relax in the afternoon.
Tour dates commence on April 3rd and run through until October 23rd 2016.
Prices start at €1789 rising to €2209 in the high season.